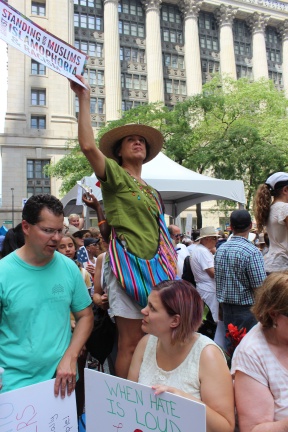 By: Ashmar Mandou
Thousands endured the heat and descended onto Daley Plaza to march in the Families Belong Together rally on Saturday afternoon. Chicago-area residents rallied as part of the Families Belong Together national day of action to protest Trump Administration's anti-immigrant policies at the border, here in our community, and across the country.
This includes forcibly separating children from their parents, the detention of families and individuals, "zero tolerance" policies, and the broader anti-immigrant policies that dehumanize and terrorize those who come to our country seeking asylum and refuge.
Individuals impacted by policies, advocates working to support immigrants, faith-based leaders, medical experts testifying about the damage caused by these policies, and policy advocates recommending policy changes to restore the core American values that welcome immigrants and honor their contributions to our country spoke to the huge crowd, which the Chicago Police Department estimated to be 50,000. It was called a day of action. Thousands protesting the Trump administration's immigration policies at the U.S. border. "We'll do everything for our kids. That's why we're here. That's why those parents are crossing the border," said Bertha Barajas.
"We don't believe in bans or borders. And we don't want children to be separated their families," said Firouzeh Rismiller. Protesters called for migrant families to be reunited and an end to family detentions and separations. "As a Mexican-American, I feel like I have the privilege and responsibility to stand up for my people that are being detained at the border," said Thomas Cortez. Protestors called for the abolishment of Immigration and Customs Enforcement (ICE).
Alianza Americas; Amnesty International; Dream Action Coalition; Gather Activism; Illinois Coalition for Immigrant and Refugee Rights (ICIRR); Indivisible (Chicago, Illinois and Oak Park); Latino Policy Forum; National Immigrant Justice Center (NIJC); MoveOn; Our Revolution Illinois; PASO–West Suburban Action Project; SEIU Healthcare; Women's March-Chicago; Women's March-Illinois organized the rally.