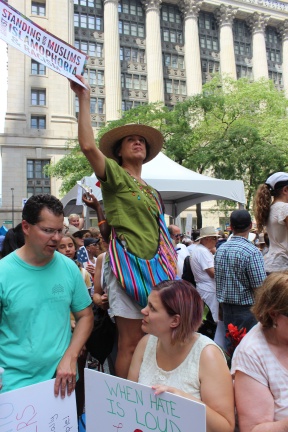 Por: Ashmar Mandou
Miles soportaron el calor y acudieron a la Plaza Daley para marchar en la manifestación 'Families Belong Together' el sábado en la tarde. Residentes del área de Chicago hicieron una manifestación como parte del día de acción nacional Las Familias Deben Estar Juntas en protesta a las políticas anti-inmigrantes de Trump en la frontera, en nuestra comunidad y en todo el país.
Esto incluye la separación forzada de los niños de sus padres, la detención de familias e individuos, la política "cero tolerancia" y las políticas anti-inmigrantes que deshumanizan y aterrorizan a quienes vienen a nuestro país buscando asilo y refugio.
Personas impactadas por políticas, simpatizantes trabajando en apoyo a los inmigrantes, líderes religiosos, expertos médicos testificando sobre el daño causado por estas políticas y abogados de pólizas que recomiendan un cambio en las políticas para restaurar los valores de los estadounidenses que dan la bienvenida a los inmigrantes y honran sus contribuciones a nuestro país hablaron a la enorme multitud que el Departamento de Policía de Chicago calcula era de 50,000. Se le llamó un día de acción. Miles protestaron contra las polٌticas de la administración Trump en la frontera de E.U. "Haremos todo por nuestros niños. Por eso estamos aquí. Por eso esos padres cruzan la frontera, dijo Bertha Barajas.
No creemos en prohibiciones o fronteras. Y no queremos que los niños sean separados de sus familias", dijo Firouzeh Rismiller. Los protestantes pedían que se reunieran las familias migrantes y que terminaran las detenciones y la separación de familias. "Como méxicoamericano, siento que tengo el privilegio y la responsabilidad de hablar por mi gente que está detenida en la frontera", dijo Thomas Cortez. Los manifestantes pidieron la abolición de Immigration and Customs Enforcement (ICE).
La manifestación fue organizada por Alianza Americas; Amnesty International; Dream Action Coalition; Gather Activism; Illinois Coalition for Immigrant and Refugee Rights (ICIRR); Indivisible (Chicago Illinois and Oak Park); Latino Policy Forum; National Immigrant Justice Center (NKJC); MoveOn; Our Revolution Illinois; PASO—West Suburban Action Project; SEIU Healthcare; Women's March-Chicago; Women's March-Illinois.