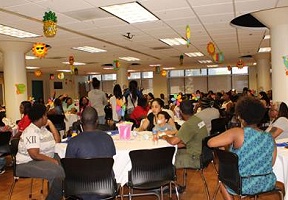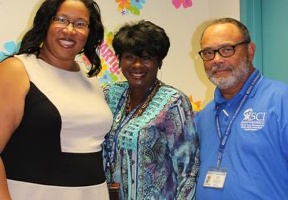 Over 200 mothers and families attended Sinai Community Institute's (SCI) 6th Annual Baby Shower event on June 29, 2018. New and expectant moms "beat the heat" on Friday morning at the event, which rewards mothers and families for their participation in these programs providing them with important education and skills for having healthy pregnancies, positive birth outcomes and healthy young children. Moms, dads and babies started the day with an informative program featuring guest speakers including Nancy Maruyama of SIDS of Illinois, Angela Ellison of the UI Office of Community Engagement and Neighborhood Health Partnerships, Kimberly Howard-Shores of the SCI WIC Program and Luvia Quinones of the Illinois Coalition for Immigrant & Refugee Rights. Illinois State Representative Melissa Conyears-Ervin also spoke about the importance of getting babies off to a healthy start through access to programs and services like those represented at the SCI Baby Shower. The day also featured a number of fun-filled games and raffles for baby products and a fair-style set-up of 30 vendors and program representatives with tables and displays. For anyone interested in learning more about SCI's programs, you can call 773-257-6216 or visit www.sinai.org.
Photo Caption 1: Mothers attending Sinai Community Institute's annual baby Shower event.
Photo Caption 2: State Representative Melissa Conyears-Ervin (10th District) Debra Wesley, President of Sinai Community Institute and Lee Smith, SCI Director of Family Case Management.