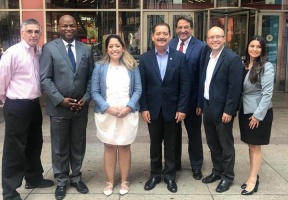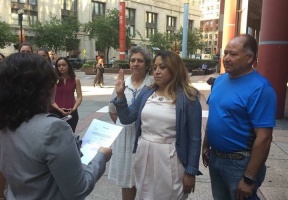 By: Ashmar Mandou
Community activist Celina Villanueva was named Monday night as the new State Representative for the 21st Illinois House district to fill the vacancy created when State Rep. Silvana Tabares who resigned to accept appointment as alderman of Chicago's 23rd Ward. Villanueva, a youth engagement activist with the Illinois Coalition for Immigrant and Refugee Rights (ICIRR), was one of five candidates nominated by the 11 Democratic committeemen and women whose districts include part of the 21st Illinois House District. Villanueva was one of five nominees, who included: Carlos Aparicio, Chief of Staff for Cook County Commissioner Tobolski; John Chojnacki, Law enforcement instructor at Calumet College; Sergio Rodriguez, Mayor of Summit; and Myra Ortiz, Village Trustee in Summit. A statement was released by the committee and endorsed by all 11 members of the committee following the vote:
"After careful deliberation by the committee, we agreed to appoint Celina Villanueva as the new 21st District State Representative.  Although we had a diverse and highly qualified group of candidates, Ms. Villanueva had the characteristics and experience that the voters of the 21st District want in their representative in Springfield. Like Silvana Tabares, Celina Villanueva is a Chicago-based Latina community leader with great communication skills and work ethic. The committee believes Ms. Villanueva will meet the expectations of voters in the 21st District who have supported and identified with the representation provided by Silvana Tabares."
Villanueva will take over as acting Representative for the 21st House District but will have to run for re-election in the next election cycle. Villanueva vowed to work hard to represent the interests of all of the voters and residents of the 21st Illinois House District and to work with all of the district's Democratic leadership. Working with the ICIRR, Celina has helped to expand voting rights through her efforts on Online Voter Registration, Election Day Registration, and most recently Automatic Voter Registration, all of which are now law in the land of Lincoln. When she's not busy trying to change the world into a place where we can all live openly, freely and safely, Celina is an avid reader, lover of musicals, dancing and a great brunch. A born and bred Chicago girl, Celina graduated with a B.A in Latina/Latino Studies with minors in African-American Studies and Spanish from the University of Illinois at Urbana-Champaign.