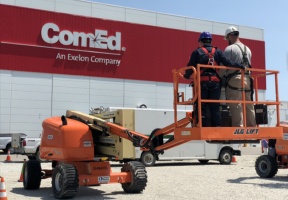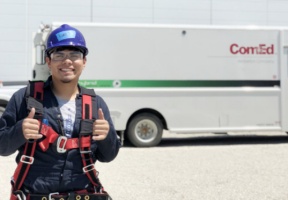 Por: Ashmar Mandou
El residente de Gage Park, Luis Mendoza, atribuye su productivo verano de aprendizaje a 'Tools of the Trade' de ComEd, programa anual de internado de verano afiliado con After School Matters que ofrece a los estudiatnes adolescentes locales la oportunidad de aprender más sobre la industria de la electricidad a través de entrenamiento práctico en el trabajo y la experiencia de carreras. "El programa 'Tools of the Trade' me fue presentado gracias a mi madre, quien encontró la información y me sugirió participar este verano. Hice la solicitud y estoy feliz de haberla hecho porque aprendí mucho y conocí a mucha gente muy preparada", dijo Mendoza.
Este verano fue el tercer año de 'Tools of the Trade' programa pagado para estudiatnes de 16-18 años interesados en adquirir destrezas del mundo real y aprender sobre carreras en electricidad. Funciona en forma similar al programa de aprendices, que permite a los estudiantes ganar experiencia práctica y conocer a líderes de la industria de ComEd, mientras trabajan en el nuevo y moderno Centro de Entrenamiento de ComEd en Chicago.
"Cada día había algo nuevo. El currículo creado para el programa 'Tools of the Trade' realmente le hace a uno pensar sobre la electricidad de una forma diferente y lo que se necesita para abastecer a la ciudad con ella". Para estudiantes como Mendoza, 'Tools of the Trade' ofrece otro beneficio para quienes no tienen claro lo que persiguen en una carrera de cuatro años. ComEd, con la ayuda de After School Matters atiende la escasez de destrezas y capacita a los estudiantes interesados en seguir una carrera comercial, creando un currículo interactivo y práctico.
"La meta del programa 'Tools of the Trade' es introducir a los estudiantes a carreras en electricidad y el comercio. Equipamos a los estudiantes con lo que necesitan para triunfar, los conectamos con tutores de ComEd, quien los toman bajo su custodia en un ambiente que promueve la curiosidad y donde aprenden que sobre la electricidad en una forma única y divertida", dijo la Vicepresidenta de Asuntos Externos y Servicio al Cliente de ComEd, Melissa Washington. "Es gratificante ver a los estudiates adquirir conocimientos y ayudarlos en una carrera comercial futura". Como parte del programa, After School Matters vigila la reclutación y el colocamiento de todos los estudiantes e instructores, así como las guía del programa. ComEd provee el currículo, el lugar, los conferencistas y la parte financiera.
En los últimos años, los adolescentes participantes han dado comentarios extremadamente positivos sobre su experiencia. El ex-interno, Raúl Nuñez participó en el programa el verano pasado y dijo que no solo disfrutó aprender destrezas prácticas que le ayudarán en una futura carrera comercial, sino que obtuvo valiosas destrezas, como confianza y curiosidad. El programa 'Tools of the Trade' de ComEd es del 25 de junio al 9 de agosto, culminando con una ceremonia de clausura para los estudiantes participantes.
"Tools of the Trade' es solo uno de varios programas de ComEd que ayudan a preparar a los jóvenes residentes de Illinois para trabajos bien pagados, a nivel de entrada. Por ejemplo, la compañía creó también un programa de entrenamiento, de nueve semanas, llamado CONSTRUCT diseñado para aumentar el grupo de candidatos minoritarios calificados para trabajos de construcción en Illinois. CONSTRUCT ofrece a los participantes la información y la guía que necesitan para fortalecer su preparación en el trabajo y sus destrezas de vida y prepararse para pruebas requeridas por la idustria que muchas veces son su prerequisito para el empleo. A través de la observación de profesionales, los candidatos miran de cerca varias opciones de carrera disponibles en campos relacionados con la construcción. Desde su inicio en el 2012, el programa de internado de verano de ComEd ha provisto entrenamiento de fuerza laboral a más de 1,000 estudiantes. Para más información sobre carreras en ComEd y Afterschool Matters, visite las siguientes redes https://www.comed.com/AboutUs/Pages/Careers.aspx