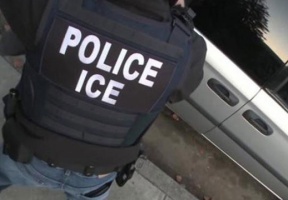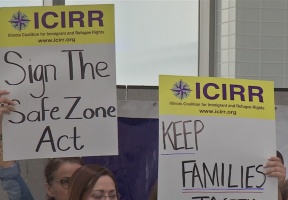 Por: Ashmar Mandou
Defensores comunitarios hicieron una manifestación el miércoles, fuera del Centro Thompson, pidiendo al Gobernador Bruce Rauner que firme el Acta Safe Zones, SB35, que crearía una línea adicional de defensa contra la agenda de separación de familias del Presidente Trump. La manifestación conicidió con una audiencia preliminar que tiene lugar en Texas, Texas v. Nielsen, un caso que reta la legalidad del programa de Acción Diferida DACA y podría eliminarlo completamente, poniendo a aproximadamente 46,000 residentes de Illinois en riesgo de deportación.
"El Acta Safe Zones de Illinois ayudaría a brindar seguridad en lugares sensibles de Illinois, para las familias inmigrantes", dijo el Senador Don Harmon (D-Oak Park), principal patrocinador del proyecto. "Este proyecto haría que la gente se sintiera más segura en su vida diaria, llevando a sus niños a la escuela o al doctor. Aunque todo inmigrante es ahora blanco de deportación esto ofrecería más seguridad en nuestras comunidades. Nuestra diversa historia inmigrante es lo que define a Illinois y necesitamos que este estado de la bienvenida a todos. Espero que este proyecto ofrezca alguna medida de seguridad a nuestros residentes inmigrantes".
Si es aprobada, Safe Zones dirigiría a la oficina del Procurador General que desarrolle políticas para proteger a los residentes de Illinois contra incursiones de inmigración federal injustificadas, arrestos y preguntas. Las guías serían publicadas por el Procurador General para el 1º de abril del 2019. La lista completa de espacios seguros incluye escuelas del estado, guarderías y pre-escolares, hospitales, clínicas de salud, centros de emergencias y urgencias, asilos, hogares grupales para discapacitados y centros de salud mental, bibliotecas, instalaciones operadas por la Secretaría de Estado y los juzgados.
A principios de este verano, la Cámara de Illinois aprobó el Proyecto 35 del Senado, el Acta Safe Zones de Illinois. El proyecto 35 del Senado fue aprobado por el Senado 31-16 el 2 de mayo del 2018 y por la Cámara, con un voto de 62-53 el 30 de mayo del 2018. "Estudios han demostrado que el estrés que resulta por las redadas y arrestos de inmigración dentro de una familia puede afecar la salud y el comportamiento de los niños", dijo Lawrence Benito, director ejecutivo de Illinois Coalition for Immigrant and Refugee Rights. "Estamos comprometidos a trabajar por la salud y la seguridad de los inmigrantes de Illinois y este proyecto es una pieza del rompecabezas de este tumultuoso clima político".
La política oficial de U.S. Immigration and Customs Enforcement es no conducir actividades de detención en "lugares sensitivos" como escuelas, pre-escolares, guarderías y centros de tratamiento médico, como salas de emergencia, pero la política no es vinculante. Las actividades de cumplimiento incluyen arrestos, entrevistas, investigaciones o vigilancia. "Esta política es indispensable en un momento en que ICE está aterrorizando a nuestra comunidad y arrestando a la gente en lugares sensitivos, como a pacientes en hospitales o padres que llevan a sus hijos a la escuela" dijo Mony Ruiz Velasco, Directora Ejecutiva de PASO –West Suburban Acto Project. "Más de la mitad de un millón de residentes de Illinois están menos seguros con estas políticas. SB 35 garantiza que nuestras comunidades tienen acceso significativo a escuelas, hospitales y juzgados, sin temor a la deportación".