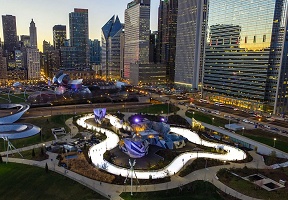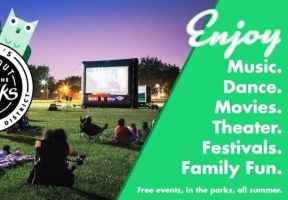 Steppin' Under the Stars en la Fuente de Buckingham
Jueves, 25 de agosto, de 4 a 9 p.m.
Grant Park, Columbus Drive
Steppin' Under the Stars [Baile Bajo las Estrellas] le ofrece una velada de compañerismo y baile originado en Chicago. Lecciones de baile a las 4:00 p.m. música en vivo y baile 5:00 – 9:00 p.m.
Reinventando la Paz de FM Supreme en Mozart
Jueves, 23 de agosto, de 6 a 8 p.m.
Mozart Park, 2036 N. Avers Ave.
Acompañe a FM Supreme en una proyección de "Reimagining Peace", [Reinventando la Paz] seguido por la actuación de un artista local de Hip Hop y un debate sobre la forma creativa de llevar la paz a nuestras comunidades a través del arte, el compromiso cívico y el entrenamiento de trabajo.
Grupo Comunitario de Chicago BigBand en Foster
Viernes, 24 de agosto, de 4 a 5 p.m.
Foster Park, 1440 W. 84th St.
Chicago Community Ensemble lleva "Música del Corazón & el Alma" al Soundstage, GRAN BANDA tamaño completo ofreciendo música de las más altas normas del presente y el pasado, ¡para todas las edades!
Mariachi Tradición Juvenil en Russell Square
Viernes, 24 de agosto, de 5 a 6 p.m.
Russell Square Park, 3045 E. 83rd St.
Música de nuestras tradiciones. En un esfuerzo por cultivar e inculcar en las futuras generaciones el arte y la cultura se estableció la academia Music Mariachi Arts and Culture Academy. MACA espera dar la oportunidad de que los jóvenes puedan continuar con la Música Folclórica del Arte y la Cultura de México alcanzando diferentes comunidades socioeconómicas y culturales en el área de Chicago. Vea más eventos YOCY en www.cityofchicago.org/YOCY.