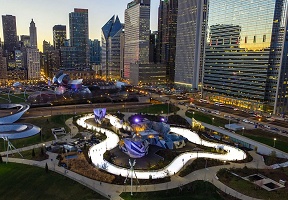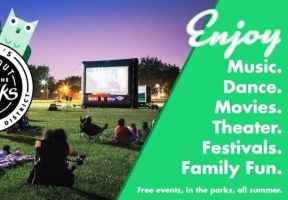 Steppin' Under the Stars at Buckingham Fountain
Thursday, Aug. 23rd from 4-9 p.m.
Grant Park, Columbus Drive
Steppin' Under The Stars provides an evening of networking and steppin', to the dance which originated in Chicago. Dance lessons at 4:00 pm, live music and steppin' 5:00 – 9:00 pm.
FM Supreme's Reimagining Peace at Mozart
Thursday, Aug. 23rd from 6-8 p.m.
Mozart Park, 2036 N. Avers Ave.
Join FM Supreme for a screening of "Reimagining Peace," followed by a local hip hop artist performance and discussion about creative ways to build peace in our communities through the arts, civic engagement, and job training.
Chicago Community Ensemble BigBand at Foster
Friday, Aug. 24th from 4-5 p.m.
Foster Park, 1440 W. 84th St.
Chicago Community Ensemble brings "Music from the Heart & Soul" to the Soundstage, a full-size BIG BAND offering music of the highest standard from all era's past and present for all ages!
Mariachi Tradicion Juvenil at Russell Square
Friday, Aug. 24th from 5-6 p.m.
Russell Square Park, 3045 E. 83rd St.
Music of our Traditions. In an effort to cultivate and instill in the future generations the Art and Culture of Mariachi Music Mariachi Arts and Culture Academy was established. MACA aims to provide opportunities for the youth to carry on the Art and Culture of Mexico's Folk Music by reaching out to different cultural and socioeconomic communities in the Chicago area. This event is presented as a part of the City of Chicago's Year of Creative Youth. Check out more YOCY events at www.cityofchicago.org/YOCY.