By Nikoleta Morales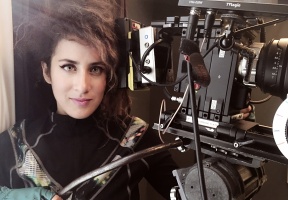 Colombian-Venezuelan Carmen Cabana, who arrived in the United States just 10 years ago, has positioned herself as one of the most sought-after Latina Directors of Photography in the entertainment industry. After wrapping her work as the Second Unit DP on ten episodes for the second season of Netflix original hit series "Narcos," Cabana went straight to work as the head DP of all six episodes for the first season of the critically acclaimed series "Vida" on STARZ currently available on STARZ on Demand. The non-stop working Latina cinematographer has worked in over 14 states in the U.S and internationally including Cuba, Colombia, and Mexico, the country in which she most recently finished filming the Mexican comedy feature film "Cindy La Regia" directed by Catalina Aguilar Mastretta and Santiago Limon. Lawndale Bilingual Newspaper caught up with her over the phone and asked her more about her story.
Lawndale Bilingual News: When and how did your love for cinematography began?
Carmen Cabana: It all began in 2007 after my documentary Venezuela won best documentary and people started complimenting my eye for emotional moments. The more I went into it, the more I found great passion for lighting and technicalities. First they scared me. But a lot of it is motivating. Cinematography wasn't my dream but once I discovered it I enjoyed it. A lot of it was self-taught. I had to reach out to the American Cinematography Organization and they helped me a lot. I started by reading books and I started working as an intern. I attended workshops, events.
Lawndale Bilingual News: How hard has it been for you to make it as a Latina cinematographer?
Carmen Cabana: I am a Latina cinematographer in a minority category. I go through the first day of shoot proving to people I got this. It doesn't bother me anymore. I want to be treated with respect and not stereotypes. If you are confident and committed people change their ways but it is not an easy route. There are 95 percent all men in this business but fortunately things are changing and people are realizing how amazing and strong women cinematographers can be. We are writing history together and setting example for what is possible for women. You have to be in good physical condition and have great balance.
Lawndale Bilingual News: What do you think makes Vida such a successful Latina show?
Carmen Cabana: As a Latina I don't like most shows as they portray us in a cartoon like way. We are so much more than that! We are free spirits, sexually, in our careers, economy and family. Vida shows the more real and rebellious nature of the characters. Introducing a gay scene and being Latin is not common. Our lesbian sex scenes are great and different. The topic of gentrification is real in Latino communities. To come in a country that is not yours and make a life in a community that is not yours you become someone and grow roots. We can all relate to that.