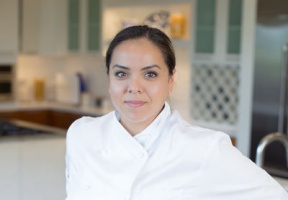 Desde la creación de platillos inspirados por el arte, a la preparación de una nueva genraciones de chefs y restauranteros – A la miembro de la facultad del Departamento de Culinaria del Triton College, Carolina Díaz, le encanta compartir su pasión por la cocina, especialmente la pasta. Su detreza y pasión le ayudaron a ganar el título de 2018 Barilla Pasta U.S. Master of Pasta, al ganar a muchos chefs de todo el país esta primavera durante la coompetencia World Pasta Masters U.S. en Chicago. Después, seguirá mientras se prepara para competir contra chefs de todo el mundo por el título internacional este octubre, en Milán Italia. Díaz, con la ayuda de su compañero de facultad del Departamento dle Culinaria, Manny Uribe, cautivó a los jueces en la competencia de E.U. con su platillo de pasta ganador, que se traduce del italiano a 'The Tuna Hidout'. Me sorprendí mucho, estaba en shock", dijo Díaz. "Estábamos compitiendo contra algunos chefs muy buenos".
Díaz, quien es originaria de Northlake, asistió al Triton College como estudiante, con planes de tomar una maestría en psicología. Más tarde cambió el curso y decidió seguir una carrera en culinaria y la industria hospitalaria. Además de servir como miembro de la facultad de Escuela de Arte Culinaria Jerome J. Drosos de Triton, es la chef a cargo de Terzo Piano Restaurant, localizado dentro del Instituto de Arte de Chicago. Ahí, la autodescrita especialista en pasta, deleita a los invitados con su cocina mediterránea, parte de la cual está inspirada en exhibiciones del museo. "Empecé a hacer dumplings, de ahí cambié a la pasta y se volvió mi pasión. Una vez que vi que podía hacer la pasta yo misma, me enamoré de ella. Disfruto haciendo las figuras con mis dedos, es terapéutico, dice. Díaz y Uribe han comenzado ya la estrategia para su competencia en Italia. El concurso de tres fases incluirá una re-creación de su platillo ganador, seguido por un platillo "canasta misteriosa' y un platillo de pasta tradicional con salsa de tomate.
La Escuela de Arte Culinario Jerome J. Drosos de Triton ofrece programas de diploma asociado en Artes Culinarias, Horneado y Repostería, Administración de Hoteles/Moteles y Administración de Restaurantes. Para más información o para inscribirse, comuníquese con la coordinadora de Jerome J. Drosos School of Culinary Arts Program Denise Smith-Bagorit al (708) 456-0300, Ext. 3524 email denisesmithgaborit@triton.edu o visite www.triton.edu.