Recopilación de Ashmar Mandou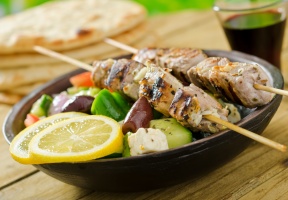 Taste of Greektown
Del 24 al 26 de Agosto
West Loop
Gratis
Disfrute de feta, tzatziki, pollo rostizado y más deliciosos sabores mediterráneos en este festival de dos días de Greektown, que ofrece deliciosos platillos cocinados por algunos de los mejores restaurantes del barrio. El fin de semana incluye también música en vivo y actividades para los niños.
Cine en los Parques
El mago de Oz
25 de Agosto
8 p.m.
Oz Park: 2021 N. Burling St.
Gratis
Feria de Salud de Regreso a la Escuela del Concejal Cárdenas
25 de Agosto
Club Boys and Girls de La Villita: 2950 W. 25th St.
10 a.m. a 1 p.m.
Grafia
La anual celebración incluye artículos escolares gratis, vacunas, exámenes físicos para la escuela, revisiones de salud y más. Traiga consigo sus formas escolares y récords médicos para recibir sus exámenes físicos y vacunas. Vendedores de muchos lugares estarán promoviendo una mejor salud.
Taste of Pulaski
25 y 26 de Agosto
Archer Heights: Archer y Pulaski\
10 a.m.
Como otros festivales de verano, Taste of Pulaski ofrece a los residentes la oportunidad de experimentar la diversa comida y música del barrio de Archer Heights. Lo que hace diferente a Taste of Pulaski es que estarán regalando cortes de pelo gratis de re
greso a la escuela y donan lo que se recaude en el evento a los Dreamers de la secundaria Curie.