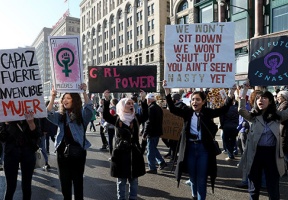 Por: Ashmar Mandou
La Marcha de Mujeres de Chicago pide una vez más a mujeres y aliados que se unan y marchen al abrirse las urnas para la votación temprana en Illinois. Llamada March to the Polls 2018, [Marcha a las Urnas del 2018], el evento es una continuación de la marcha sostendia en enero. Esta manifestación y marcha es un paso siguiente indispensable en el compromiso de votantes, mientras las mujeres prometen cambiar los resultados de las casetas de votantes para proteger una democracia frágil. Esta manifestación refleja el poder del movimiento femenino mientras marchamos y nos dirigimos a las urnas en mayor número que antes. La manifestación y la marcha subsecuente tendrá lugar el sábado, 13 de octubre a las 9 a.m. y honrará a los que votan por primera vez mientras anima a miles más mientras se dirigen hacia las urnas. La votación temprana estará abierta en el centro de Chicago, donde los votantes de Chicago y del Condado de Cook pueden literalmente "Marchar a las Urnas" y depositar sus boletas el 13 de octubre.
"Sabemos que cientos de miles de mujeres y sus aliados están entusiasmados y energizados para votar este otoño, y la marcha de octubre nos permitirá reunirnos y aprovechar esta energía y entusiasmo para convertirlo en acción", dijo Jaquie Algee, miembro de la Junta WMC y presidenta de March On Board. "Las mujeres se están organizando ellas y organizando a otros para llegar a las urnas y el 13 de octubre es un punto de activación para ello en Chicago. WMC planea que este evento sea particularmente especial para aquellos que votan por primera vez, en un momento en que todo voto es indispensable". WMC está estableciendo esta Primera Experiencia del Votante para festejar a nuevos votantes, en particular a las mujeres jóvenes, los inmigrantes y otros jóvenes. Los participantes serán identificados a través de una coalición de jóvenes organizadores que trabajan con la Marcha de Mujeres de Chicago. Las ventajas incluirán conocer en persona a los funcionarios electos, entretenimiento VIP, un desfile de jóvenes votantes al sitio de votación temprana y una celebración de su poder del voto desde el escenario principal de la manifestación, el 13 de octubre.
Marcha a las Urnas del 2018 incluirá oradores especiales y actuaciones musicales en vivoy contará con una nueva villa patrocinadora en el área de la manifestación, donde los asistentes tendrán acceso a los candidatos y patrocinadores participantes en los quioscos. Todas las campañas tendrán la oportunidad de participar en la villa patrocinadora, junto con organizaciones no lucrativas, locales y nacionales. El día culminará con una marcha por las calles del centro de Chicago a la Plaza Federal y el acceso a la Junta de Elecciones en el sitio de votación temprana del centro de la ciudad. WMC es una organización no lucrativa, cuya programación inspira a la mujer y sus aliados a apoyar los derechos de la mujer y la justicia social y compartir ese mensaje con otros votantes potenciales, en sus círculos. WMC reta al sistema político sobre los problemas que afectan a la mujer y es afiliado de March On, coalición de marchas hermanas a nivel nacional.