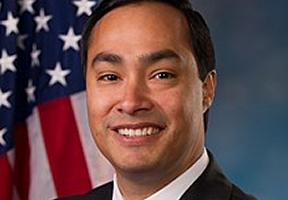 The United States Hispanic Leadership Institute (USHLI) has become the premier Hispanic leadership conference in the nation, attracting a complete cross-section of the leadership community and involving all groups. Once again, it will host its annual 37th National Conference at the Sheraton Grand Chicago Hotel, located at 301 E. North Water St., Chicago, IL 60611, from February 14th through 17th. This year, the theme is "Defend Democracy: Aquí y Ahora." USHLI recently announced a few of this year's speakers including keynote speakers for the Educational Achievement Luncheon, Congressman Joaquin Castro. Former Congressman Luis V. Gutierrez will serve as speaker for the Latino Leaders Recognition and USHLI will honor San Juan, Puerto Rico Mayor Carmen Yulín Cruz, as the recipient of the 2019 Dolores Huerta Woman of Courage Medallion at the Latina Empowerment Breakfast. If you would like to register or learn more, visit www.ushli.org/
Congressman Castro, who earned degrees at Stanford University and Harvard, first served as a state representative in the Texas Legislature. Elected in 2013 to represent the 20th Congressional District, he will deliver the keynote address at 12:30 pm on Friday, February 15. He is a prominent member of the House Permanent Select Committee on Intelligence and the House Foreign Affairs Committee, and a member of several international caucuses including Japan, Mexico, Singapore, United Kingdom, French, Switzerland, India, Morocco, and Taiwan. He is also the Founding Co-Chair of the Pre-K Caucus.
Mayor Yulín Cruz who earned degrees at Boston University and Carnegie Mellon University returned to Puerto Rico and worked as a mayoral assistant. She ran against a three-term incumbent and was elected mayor in 2012 and reelected in 2016.  Dolores Huerta, who has been at the forefront of the struggle for social and economic justice for over six decades, will present the Medallion to Mayor Yulín Cruz at 8:30am on Friday, February 15. 
Former Congressman Gutierrez earned a B.A. degree at Northeastern Illinois University and worked as a teacher, a social worker, and as an assistant to the mayor of Chicago. He was elected Alderman in 1986 to represent the 26th Ward in the Chicago City Council and to the U.S. House of Representatives in 1992 to represent Illinois' 4th Congressional District where he served 13 terms and emerged as the leading congressional champion in the struggle for comprehensive immigration reform.