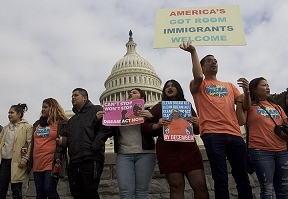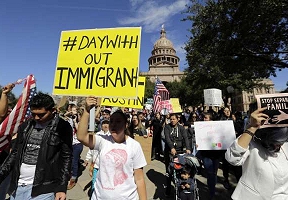 Por: Ashmar Mandou
El miércoles, el Rep. Jesús "Chuy" García (IL-04) y sus colegaas, los Reps. José E. Serrano (NY-15), Suzanne Bonamici (OR-01), Donald S. Beyer Jr. (VA-08), Pramila Jayapal (WA-07), conducidos por el Rep. Adriano Espaillat (NY-13) presentaron un paquete legislativo para proteger los derechos de los inmigrantes. "La noche pasada, el Prtesidente Trump tuvo la oportunidad de reunir a nuestra nación, pero en su lugar, escogió continuar complaciendo a su base, sembrando temor y criminalizando a una comunidad entera. En vez de proponer soluciones sólidas para los retos de inmigración que nuestro país enfrenta, se enfocó en la crisis no existente de la frontera. Mis colegas y yo estamos presentando este paquete de tres proyectos que protegerán a los inmigrantes y a sus familias y responsabilizarán a la administración Trump.
Las familias inmigrantes, incluyendo las de mi distrito, merecen vivir y caminar en sus barrios sin temor a ser detenidos y deportados en una escuela, iglesia o en la oficina del doctor. Pediremos que las familias separadas en la frontera sean reunidas inmediatamente, que reciban consejo legal y pediremos que actualicen a los padres haciéndoles saber cuando van a reunirse con sus hijos. Fiinalmente, deberían hacer responsables a los agentes de ICE y CBP pidiéndoles que usen cámaras corporales para proteger los derechos civiles y humanos de los inmigrantes que arrestan y detienen. Las tres propuestas legislativas que prsentamos hoy atenderán problemas muy importantes creados por las políticas inhumanas de Trump", dijo el Rep. Jesús "Chuy" García.
Los proyectos, que fueron presentados primero en el 2017 y en el 2018, buscan evitar algunas de las tácticas de aplicación de inmigración más notorias de la Administración Trump y proteger los derechos de los inmigrantes en Estados Unidos. Uno de los proyectos, el Acta Protecting Sensitive Locations, prohibirá la intervención de inmigración en ciertos "lugares sensitivos" como juzgados, escuelas centros comunitarios e iglesias, una táctica para atacar a las comunidades inmigrantes vulnerables que se ha vuelto común bajo la Administración Trump. Otra medida, el Acta Reunite Every Unaccompanied Newborn Infant Toddler and Other Children Expeditiously (REUNITE), pedirá la inmediata reunificación de los niños que fueron separados de sus padres o tutores legales como resultado de la política "cero tolerancia" de la administración. Finalmente, el Acta ICE and CBP Body Camera Accountability requeriría que los oficiales de inmigración y aduanas y de la patrulla fronteriza usen cámaras corporales, las que presentarian imágenes disponibles para cualquier procedimiento legal.