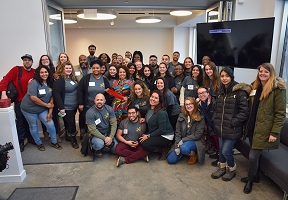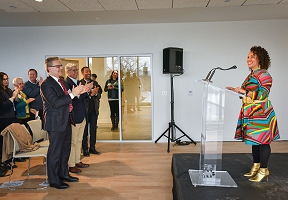 Por: Ashmar Mandou
Después de seis años de proceso, La Casa Norte regresó el martes a su local original, con la gran apertura de The Foundation Project, una nueva y moderna instalación de usos múltiples, de $20 millones de dólares,. The Foundation Project proporcionará viviendas de apoyo para jóvenes y familias que experimentan el desamparo; un centro de acogida para jóvenes; un centro de cuidado de salud comunitario, un centro de nutrición con un café comunitario; una despensa; servicios de prevención al desamparo; y la oficina principal de La Casa Norte.
"Este nuevo centro proveerá recursos, dignidad y seguridad en el corazón de la comunidad de Humboldt Park y no podríamos estar más orgullosos y agradecidos a todos los que han sido parte de este proyecto", dijo Sol Flores, directora ejecutiva fundadora de la Casa Norte. "Miles de miembros de la comunidad más vulnerable de Chicago pasarán por nuestras puertas en busca de salud y esperanza y recibirán los mejores y más completos recursos posibles. The Foundation Project permitirá a quienes servimos lograr su sueño de independencia en una atmósfera llena de vida y energía".
Diseñado por los arquitectos Landon Bone Baker, el edificio de cinco pisos está localizado en el 3533 W. North Ave. Las principales características del nuevo centro de La Casa Norte brindarán servicios integrales y completos de prevención a las personas sin hogar, los que incluyen:
• Pier House, una colección de 25 unidades de vivienda de apoyo para jóvenes entre 18 y 24 años y familias que experimenten el desamparo
• Un Centro comunitario de atención de salud aprobado por el gobierno federal, administrado en asociación con el Centro de Salud Howard Brown, donde cualquier persona en un grupo de bajos ingresos tendrá acceso a consultas médicas y exámenes médicos.
Un apoyo generoso, primero en su clase en Chicago, de docenas de familias, organizaciones y fundaciones privadas, ayudaron a hacer posible la instalación de la Casa Norte, incluyendo la Ciudad de Chicago, PNC Financial Services Group, Denis Pierce, Betty Phillips, Lester and Becky Knight y Pritzker Community Health Initiative, proyecto de J.B. y M.K. Pritzker Family Foundation.
"El trabajo de La Casa Norte está fincado en la creencia de que los servicios de vivienda y de apoyo son indispensables para terminar el desamparo, por lo que el dedicado personal y voluntarios han trabajado incansablemente los pasados 16 años", dijo Howard Hayes, presidente de la Mesa Directiva de la Casa Norte. Esta moderna y completa instalación no solo permitirá un dramático aumento en el número de jóvenes y familias en peligro que se ayudarán, sino que llevará un desarrollo económico transformacional y una revitalización a la comunidad de Humboldt Park de Chicago.