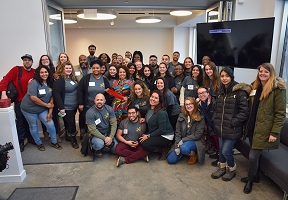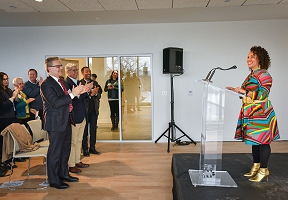 By: Ashmar Mandou
After six years in the making, La Casa Norte on Tuesday returned to its original location with the grand opening of The Foundation Project, a new $20-million-dollar state-of-the-art mixed-use facility on Tuesday. The Foundation Project will provide supportive housing units for youth and families that are experiencing homelessness; a youth drop-in center; community healthcare center; nutrition center with a community café; a food pantry; homelessness prevention services; and La Casa Norte's headquarters.
"This new center will provide resources, dignity and safety in the heart of the Humboldt Park community and we could not be more proud or grateful to everyone who has been a part of this journey," said Sol Flores, La Casa Norte founding executive director. "Thousands of Chicago's most vulnerable community members will come through our doors in search of healing and hope and will receive the best and most complete resources possible. The Foundation Project will allow those we serve to achieve their dream of independence in an atmosphere full of life and energy."
Designed by Landon Bone Baker architects, the five-story building is located at 3533 W. North Avenue. Key features of the new La Casa Norte center, will provide integrated and comprehensive wrap-around and homelessness prevention services include:
• Pierce House, a collection of 25 on-site supportive housing units for youth between the ages of 18 and 24 and families that are experiencing homelessness
• Federally qualified community health care center, run in partnership with Howard Brown Health Center, where anyone in a low-income bracket will have access to doctor visits and checkups
A first of its kind in Chicago, generous support from dozens of families, organizations and private foundations helped make the La Casa Norte facility possible including the City of Chicago, PNC Financial Services Group, Denis Pierce, Betty Phillips, Lester and Becky Knight and the Pritzker Community Health Initiative, a project of the J.B. and M.K. Pritzker Family Foundation.
"La Casa Norte's work is rooted in the belief that housing and supportive services are critical to ending homelessness, which the dedicated staff and volunteers have worked tirelessly to provide for the past 16 years," said Howard Hayes, president, La Casa Norte Board of Directors. "This state-of-the art, comprehensive facility will not only allow for a dramatic increase in the number of at-risk youth and families helped, but will also bring transformational economic development and revitalization to Chicago's Humboldt Park community."
Photo Credit: Casa Norte