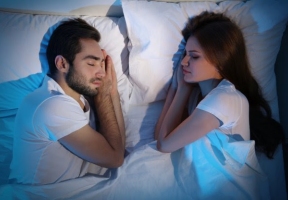 Lack of sleep is such a universal problem that the National Sleep Foundation has proclaimed the week of March 10th as Sleep Awareness Week. How do you assess your bedroom habits and optimize your nighttime routine for better sleep? To find out, we turned to Dr. Sanam Hafeez, a New York-based neuropsychologist and faculty member at Columbia University. Studies show that sleep quality is directly related to sleep hygiene. So could it be that your nighttime habits are causing you to lose out on the benefits of quality sleep? Here are a few behaviors that could be causing a decline in your sleep quality and tips from our neuropsychology expert explaining how to fix them!
Working Out Too Late into The Night
Working out can help de-stress the body and reduce anxiety. However, "if done too close to your bedtime your body might still feel the adrenaline and pump of the workout and it might be difficult to fall into a sedative state," says Dr. Hafeez.
Using Your Bed for More Than Just "Bed" Functions
Much like productivity professionals advise maintaining a designated area for studying or work, sleep experts say your bed should be used almost exclusively for sleeping and sharing intimate moments with our spouse or lover. This is because, "the brain has a hard time adjusting to sleep mode if it gets used to being on the bed all the time, eating, watching tv, studying or just hanging out. You'll have a harder time shifting into actual 'bedtime,' explains Dr. Hafeez.
Going to Bed Angry Will Make It More Difficult to Fall Asleep
Not only is "don't go to bed angry" good relationship advice, it turns out it's great psychological and sleep hygiene advice. Dr. Hafeez explains that "if you are able to leave things off with someone in a better place or in a place of 'we will work this out in the morning because we care for each other,' you have a better chance of letting your body relax into sleep." If you aren't able to calm your frustration for the night, you may find your mind circling the problem until the sun comes up.
Napping During the Day
Sleep is a recharge for the day's activities. If you are constantly napping or napped too heavily during the day, your mind won't be as tired as it usually is once it's time to tuck into the sheets for the night. "Napping if necessary is not a bad thing. But one 20 to 30-minute nap is very different than sleeping all day and then struggling at night to sleep," says Dr. Hafeez.
Dr. Sanam Hafeez PsyD is an NYC based licensed clinical psychologist, teaching faculty member at the prestigious Columbia University Teacher's College and the founder and Clinical Director of Comprehensive Consultation Psychological Services, P.C. a neuropsychological, developmental and educational center in Manhattan and Queens.