By: Ashmar Mandou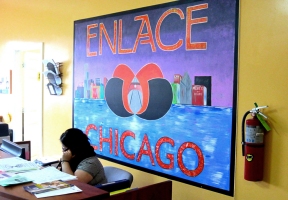 Behind every altruistic effort or illuminating project is an organization working around the clock for the betterment of their community. Each month we will place a spotlight on organizations across the Chicagoland area that are invested in creating opportunities and elevating their community. This month we focus our attention on Enlace Chicago. Executive Director at Enlace Chicago Katya Nuques shares the mission of Enlace Chicago and how you can get involved.
Lawndale Bilingual Newspaper: In your own words, describe the mission of the Enlace Chicago?
Katya Nuques: As a community-based organization, we are very committed to the wellbeing of families and individuals who live in Little Village. Community residents are our most important asset, and that includes our staff. So, we are concerned and committed to their quality of life. We work towards a more vibrant, united, resilient, and self-reliant community.
How does the Enlace Chicago engage with the community?
Our main focus areas are in Education, Health, Safety, and Immigration. We engage community in a number of strategies in each area, because we believe in addressing systemic inequities from all angles. So, we provide direct-service programming, but also organize residents and focus on individual & leadership development to address those inequities. We also convene local partners in several collaborative with interest in different focus areas. Partners meet to collaborate on how to best serve the needs of the community.
What goals are set forth for the Enlace Chicago this year?
This year we hope to complete construction of our new building at 2759 S. Harding Ave. This 9,000 square foot space will be an asset for the community. It will not only meet the space needs for our growing staff, but also serve as a community center for meetings and programming in our four areas of focus. The design of the building will mirror the local architecture — a 3-story, brick building with a storefront entrance, similar to that of corner stores on residential streets. The windows on the first floor will have a similar appearance to storefront windows, but also open up to the community.
For someone interested in volunteering, what opportunities are available to them? 
We are fortunate to have two community gardens in Little Village. "6062Trees: Sembrando Bajo el Sol" located on 26th and Trumbull and "Mr. Keeler's Pumpkin Eaters/El Jardín de la Calabaza" located on 25th and Keeler. We always have opportunities for people to volunteer at the gardens, especially during the Spring and Summer. 
What would you like the community to know about the Enlace Chicago?
We serve over 8,000 community members every year. This work is carried out by our predominantly Latinx staff. Many of our staff actually live and work in the neighborhood. It is a requirement for our Board of Directors to have lived, worked, or worshipped in the neighborhood for at least ten years in order to serve.