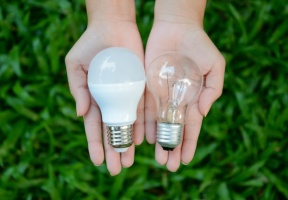 Use Reusable Bags
Plastic grocery-type bags that get thrown out end up in landfills or in other parts of the environment. These can suffocate animals who get stuck in them or may mistake them for food. Also, it takes a while for the bags to decompose. Whether you are shopping for food, clothes or books, use a reusable bag. This cuts down on litter and prevents animals from getting a hold of them. There are even some stores that offer discounts for using reusable bags.
Save Water
Water is wasted more frequently than we can see. Turn off the faucet as you are brushing your teeth. Don't turn your shower on until you're ready to get in and wash your hair. Limit your water usage as you wash dishes. Changing old habits will be good for both the environment and your wallet.
Use a Reusable Beverage Containers
Instead of buying individually-packaged drinks, consider buying a bulk container of the beverage you want and buying a reusable water bottle. Not only will this help the environment, but it will also help you save money since you are buying a bulk container.
Save Electricity
Use energy-efficient light bulbs instead of regular bulbs. They last longer, which will save you a bit of money. Make you turn off lights, the TV, and other appliances when you are not using them. Lower your air conditioning or heat when it's not necessary. This is especially true for between seasons. Open your windows in the early fall or layering your clothes in the early fall.