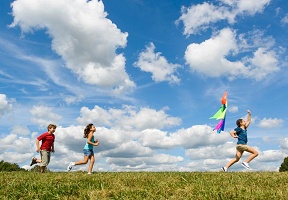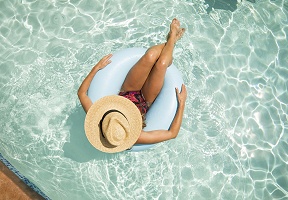 Memorial Day marks the unofficial start of summer.  According to AAA, more than 41.5 million Americans will travel this Memorial Day weekend by car, plane, or train. Nothing ruins a long-awaited vacation faster than getting sick or being in medical distress.  We turned to Dr. Niket Sonpal, an NYC internist and gastroenterologist for some tips on how to avoid health consequences while traveling.
Avoid Deep Vein Thrombosis
Deep vein Thrombosis (DVT) occurs when a blood clot (thrombus) forms in one or more of the deep veins in your body, usually in your legs. Deep vein thrombosis can cause leg pain or swelling, but also can occur with no symptoms. For travelers, this can happen on long haul trips where you are not moving. Dr. Sonpal recommends if you are flying or on a train, to move around the cabin to get the blood flowing in your legs. If you are driving, take a break at a rest stop and walk around. Compression socks are also another option to prevent DVT.
Don't Get Nauseous
People can experience motion sickness on virtually any mode of transportation. To combat this, Dr. Sonpal suggests Dramamine® Non-Drowsy Naturals, Dramamine®'s first non-drowsy formulation. It contains the clinically tested ginger dosage required for preventing and treating motion sickness. Other sources of ginger, including candies, gums, or ginger ale, may not contain a full clinical dose. For someone who is already experiencing nausea while traveling, it is a good idea to keep Emetrol on hand which is an over the counter nausea medication that does not cause drowsiness.
Avoid Bloating on a Plane
If you get gassy on a plane, you're not alone! Dr. Sonpal explains that, "As the pressure around you decreases, the gas in your belly isn't constrained as much and it expands. This can make you feel bloated or become distended." It is essential to avoid foods that cause gas or have salt. Skip the tomato juice in flight and stick with non-carbonated water. Avoid alcohol, cruciferous vegetables, dairy and high sodium snacks such as salted peanuts or pretzels. Foods that are protein packed, magnesium-rich and high in Vitamin C are good options.
Sanitize Your Surfaces
Planes and trains are a breeding ground for illness.  The former are awful due to re-circulated air. Most travelers would be appalled if they really knew how germy their tray tables are! Dr. Sonpal suggests sanitizing wipes for your tray table, seat belt clip and hand rests of your seats on planes and trains. When you exit a restroom on a plane or train and touch the door handles, be sure to use hand sanitizer even if you already washed your hands.