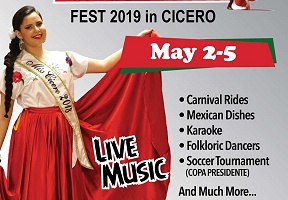 Compiled by Ashmar Mandou
By now, we all know, hopefully, that Cinco de Mayo is a celebration of the Battle of Puebla that took place May 5th, 1862. Today, Cinco de Mayo has become a prime holiday not just for the Mexican community, but for everyone to join in on the festivities. This year, Cinco de Mayo falls on a Sunday and lots of events are happening around the city leading up till then. From comedy shows to cantina crawls, we have a fun list of different to celebrate Cinco de Mayo.
Cinco de Mayo
Cicero
Thursday, May 2nd to Sunday, May 5th
Times vary depending on date.
Cicero Fairgrounds, 34th and Laramie Ave.
Free
Cinco de Mayo is the festival that attracts families from diverse cultures, and backgrounds, filled with live music, real Mexican traditional food, and family fun. The event will include international stars and local talent.
Cinco de Mayo Parade
Little Village
Sunday, May 5th
Noon
Cermak Rd. and Damen Ave., to Marshall Blvd.
Cinco de Mayo
North Riverside, IL
Sunday, May 5th
1p.m. to 5p.m.
North Riverside Mall's Centre Court, 7501 W. Cermak Rd
Mariachi music, Folklórico dancers and family entertainment with a little help from Dora the Explorer will be on hand to celebrate.
Cinco de Mayo Pilsen Cantina Crawl
Pilsen
Saturday, May 4th
Noon to 6p.m.
Cost: $30-$45
Join friends in Pilsen for the sixth annual fundraiser in support of Pilsen Fest 2019! Sip tasty mezcal and tequila cocktails at over ten unique bars and restaurants in Pilsen.
Cinco de Mayo Comedy Night
Berwyn, IL
Friday, May 3rd
6p.m.
Cost: $30
The event is 21+
Berwyn Cultural Liberty Center, 6445 27th Pl
Enjoy five comedians, anchored by Joey Villagomez, and bid on great silent auction items.
Cinco de Mayo Fiesta Charity Event
Chicago
Friday, May 3rd
7:30p.m., to 10:30p.m.
Cost $40 and $50 at the door
Bounce Sporting Club, 324 W. Chicago Ave.
Join in for a fiesta for a cause. Partnering with Mercy Home to help support underprivileged kids in the city.
Chicago White Sox-Cinco de Mayo
Chicago
Sunday, May 5th
1p.m.
Guaranteed Rate Field, 333 W. 35th St.
Tickets available on www.mlb.com
Cinco de Mayo on the Riverwalk
Chicago
Sunday, May 5th
11a.m., to 9p.m.
Free
City Winery Chicago Riverwalk, 11 W. Riverwalk South
Celebrate Cinco de Mayo at City Winery Riverwalk with DJ Lovebug, spinning from 2p.m. to 6p.m.
Cinco de Mayo comedy Jam with Omar Covarrubias
Chicago
Sunday, May 5th
7:30p.m. to 10:30p.m.
Joe's on Weed St., 940 W. Weed St.
Tickets available at cincomikeyo1.eventbrite.com