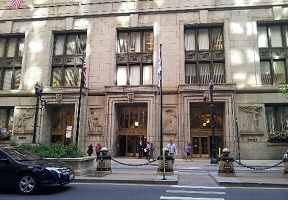 La alcaldesa Lori E. Lightgoot anunció varias posiciones clave que fungirán en posiciones de liderazgo en su administración. Estamos empezando a funcionar con un talentoso equipo de servidores públicos listos para atender a todo residente de Chicago", dijo la Alcaldesa Lightfoot. "Espero trabajar con estos experimentados profesionales para garantizar un gobierno transparente y sensible, que cree equidad, oportunidades y crecimiento para cada barrio de nuestra ciudad" Unos cuantos de los siguientes nombramientos fueron hechos el martes.
Samir Mayekar, Diputado Mayor para el Desarrollo Económico & de los Barrios – Samir Mayekar trae al equipo considerable experiencia para los sectores público, privado y no lucrativo. Samir anteriormente sirvió en la Administración Obama en la Casa Blanca y en una agencia de finanzas de infraestructura federal. Como cofundador y CEO de NanoGraf Corporation, Samir estableció una compañía de energía ecológica que continúa creciendo en Bronzeville. Fluído en español, Samir tiene profundas raíces en los barrios de Chicago, habiendo servido como director de la junta de una comunidad comprometida con el teatro juvenil en Albany Park y un grupo musical ganador de un GRAMMY en Back of the Yards. Tiene un B.A. y un M.B.A. de la Universidad Northwestern, donde funge como fideicomisario.
Marisa Novara, Comisionada de Vivienda – Marisa trae consigo 15 años de experiencia conduciendo el desarrollo de vivienda asequible en la comunidad, y encabezando pólizas para unir comunidades, el comercio y la academia. Mientras era Vicepresidenta en Metropolitan Planning Council (MPC) avanzó el primer argumento con evidencia en Estados Unidos de que la segregación racial y económica cuesta una región y lideró la posterior creación de la primera guía integral de la región para un futuro más equitativo desde el punto de vista racial.
Manuel Pérez, Director Diputado del Consejo Legislativo y Asuntos Gubernamentales (LCGA) – Manuel (Manny) dirigirá día a día el trabajo de implementar la agenda legislativa de la administración en todas las áreas, con enfoque particular en Springfield, ya que la sesión actual llega a su fin. Manny fue el gerente de campaña de la segunda vuelta de elecciones para Alcalde y sirve como Director de Asuntos Intergubernamentales para la transición. Ha conducido una variedad de campañas a nivel local, estatal y federal, incluyendo la del Congresista Jesús "Chuy" García para el Congreso en el 2018.