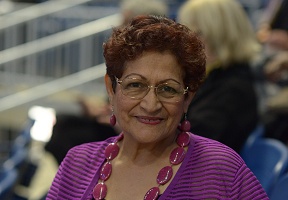 Por: Ashmar Mandou
Lori E. Lightfoot fue juramentada el lunes como la Alcaldesa No. 56 de Chicago, con su esposa, Amy Eshleman y su hija, Vivian, a su lado. Miles de los miembros del público asistieron a la ceremonia inaugural en Wintrust Arena, para participar y celebrar este logro trascendental en la historia de Chicago.
"Para quienes están solos, nosotros estamos con ellos. Para quienes necesitan una casa, nosotros los albergaremos. Para los que tienen poco, haremos mucho. Los vemos, Los escuchamos. Somos sus vecinos. Y – por lo tanto ayúdenme – no los ignoraremos", dijo la Alcaldesa Lightfoot.
La Alcaldesa Lightfoot hizo el juramento a la oficina administrado por la Honorable Susan E. Cox, Juez Magistrada de la Corte de Distrito de E.U. del Distrito Norte de Illinois y por mucho tiempo amiga de la alcaldesa. Precediendo a la Alcaldesa Lightfoot tomando el juramento, estuvieron la Secretaria Anna Valencia, los cincuenta miembros del Concilio de la Ciudad (incluyendo 12 nuevos miembros) y la Tesorera, Melissa Conyears-Ervin quienes también fueron juramentados.
La presentación de colores estuvo a cargo de la Academia Miitar de Phoenix JROTC. La Promesa de Alianza fue interpretada por el joven de 17 años, Arturo Ballesteros, de Back of the Yards College Prep y el Himno Nacional estuvo a cargo de Miguel Cervantes de "Hamilton" de Chicago, acompañado por la Sinfonietta de Chicago.
La variedad musical incluyó a Chicago Gay Men's Chorus, Puerto Rican Arts Alliance, After School Matters Choir, Native Veterans Group of Trickster Art Gallery, Ribbon Town Drum de Pokagon Band of Potawatomi, Chicago Sinfonietta – Proyecto Inclusión, Escuela de Música Merit, Alfreda Burke & Rodrick Dixon acompañados por Fred Nelson III, Lizz Wright acompañada por Kenny Banks y Gaitas y Tambores de la Sociedad Emerald del Departamento de Policía de Chicago.
Líderes religiosos participaron en el programa incluyendo al Rev. Dr L. Bernard Jakes de West Point Missionary Baptist Church, Imam Tariq I. El-Amin of Masjid Al-Taqwa, La Rev. Dra. Beth Brown de la Iglesia Presbiteriana de Lincoln Park, Rabbi Capers C. Funnye, Jr., de Beth Shalom B'Nai Zaken Ethiopian Hebrew Congregation y el Padre Thomas J. Hurley de Old Saint Patrick's Church
La participante del Grupo Steppenwolf, Amy Morton fue la Maestra de Ceremonia. Tras la ceremonia inaugural, la Alcaldesa Lightfoot y la Primera Dama, Amy Eshleman, saludarán a miembros del público en la Alcaldía, durante una casa abierta al público de 2 a 4 p.m. La Alcaldesa Lightfoot es la primera mujer negra y abiertamente lesbiana alcaldesa de Chicago. Lightfoot es la segunda mujer en ser elegida como alcaldesa en la historia de Chicago.

Photo Credit: Tony Diaz