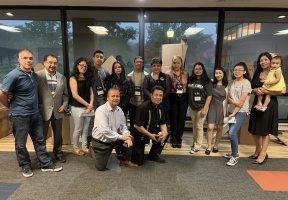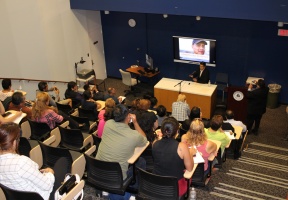 Town President Larry Dominick and the Town of Cicero Board of Trustees Clerk Maria Punzo-Arias, Supervisor Joe Virruso, Collector Fran Reitz, Assessor Emilio Cundari, and Trustees Victor Garcia, Larry Banks, Bob Porod and John Cava were proud to organize and co-host with Morton College, the Town of Cicero Department of Citizenship, the Cicero Mexican Cultural Committee, and the Cicero Area Project a "Know Your Rights" Community Forum to assist undocumented residents and family members living in the Town of Cicero. The forum was held at Morton College on Tuesday July 2, 2019.
"Cicero President Larry Dominick and our Board of Trustees would like to remind you that our police will not and have not worked to support ICE in any way. Our police officers will never question any individual about their citizenship or immigration status," said Frank Aguilar, the Town of Cicero Community Affairs Director, Chairman of the Cicero Mexican Cultural Committee and Morton College Board Trustee. "The Town of Cicero under President Larry Dominick was the first municipality in the State of Illinois to implement a resolution to protect undocumented residents in a proclamation called "The Safe Space" Resolution which was adopted on November 12, 2008. Cicero's Safe Space Resolution has been used as a model for other declarations of "Sanctuary Cities" by other communities including Cook County, the City of Chicago and the State of Illinois."
Aguilar told the group, "Unfortunately there were and are groups and individuals that try to bring attention to the Town of Cicero with ICE, using the vulnerable status of the undocumented, for their own personal and political gain. … We are concerned for our resident's welfare who call Cicero their home. Be assured the Town of Cicero, its Board of Trustees and your Town President Larry Dominick are dedicated to protect the rights of every person in Cicero regardless of their citizenship or immigration status."  Leading the forum were Immigration Legal Councilors Xavier Borjas & G. James Hassia.
Additional speakers at the Forum included Town of Cicero Clerk Maria Punzo-Arias, Cicero Area Project Emma Marin, Director of Cicero Citizenship Department Arcadio Delgado, Office of The Consulate General Mexico, Uriel Mendez Fernandez, Maru Ayala, Cicero Mexican Cultural Committee, Morton College Public Affairs, Blanca Jara.  Residents received legal counsel at no cost after community forum. Punzo-Arias said that there will be several more "Know Your Rights" community forums to assist Cicero residents during the upcoming year.