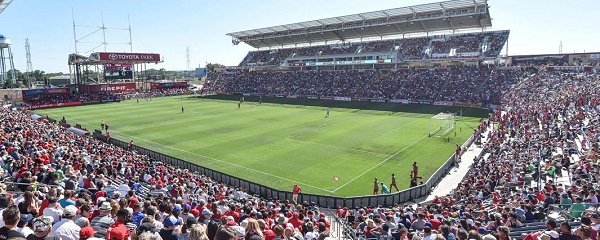 El Chicago Fire Soccer Club y el Village of Bridgeview acordaron un contrato de arrendamiento de estadio enmendado que incluye una contribución significativa del Fire hacia el desarrollo de un centro de entretenimiento y entretenimiento polideportivo en Bridgeview y mayores pagos anuales de arrendamiento al Village. El acuerdo también le permite al Chicago Fire jugar futuros partidos en casa y realizar operaciones de equipo en otras instalaciones deportivas de Chicago. El Chicago Fire aportará $ 5 millones al Village que se utilizará para renovar y ampliar las instalaciones de fútbol existentes alrededor del estadio SeatGeek. Además, según los términos del acuerdo, Bridgeview recibiría $ 60.5 millones durante el plazo restante del contrato de arrendamiento, incluido un pago por adelantado de $ 10 millones. El equipo continuará su valiosa asociación con Bridgeview al capacitarse en las instalaciones y al operar allí los programas de desarrollo para jóvenes de Chicago Fire.
"El estadio SeatGeek ahora tendrá disponibilidad durante todo el año para eventos de entretenimiento consistentes que generen altos ingresos en los próximos años", dijo el alcalde Landek. "Además, el lugar de recreación expandido creará aún más oportunidades de crecimiento para la Villa. Estoy sumamente entusiasmado con los beneficios que este acuerdo traerá a nuestra comunidad y para el futuro de un equipo deportivo que todos nosotros en Bridgeview y la región hemos llegado a amar ".
"Estamos agradecidos con el alcalde Landek y los residentes de Bridgeview por nuestra asociación", dijo el propietario y presidente de los Bomberos de Chicago, Andrew Hauptman. "Estamos contentos de poder fortalecer nuestra relación y al mismo tiempo exponer a más fanáticos a nuestro Club y al fútbol de clase mundial en un estadio más céntrico de Chicago. Hoy marca el próximo capítulo en el crecimiento del Club y la oportunidad de jugar para más fanáticos que nunca en una de las grandes ciudades del mundo ". The Village y el Club están preparando acuerdos legales definitivos para implementar el arrendamiento del estadio enmendado.