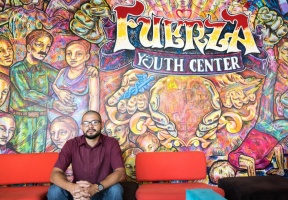 By: Ashmar Mandou
Behind every altruistic effort or illuminating project is an organization working around the clock for the betterment of their community. Each month we will place a spotlight on organizations across the Chicagoland area that are invested in creating opportunities and elevating their community. This month we focus our attention on Cicero based organization, Corazón Community Services (CCS). Director of Youth Services at Corazón Community Services Ismael "Izzy" Vargas Jr., shares the mission of CCS and its making a profound impact in the community
Lawndale Bilingual News: In your own words, describe the mission of Corazón Community Services?
Ismael "Izzy" Vargas Jr.: Our mission is to improve the quality of life for youth and families through holistic social services offered in a culturally sensitive environment.
How does Corazón Community Services engage with the community?
Corazón Community Services (CCS) engages with the community through afterschool programs, community events within the community and supplemental services provided within the schools. We also make sure that staff reflects the community we serve and in most cases, hire people from the community. We offer programs and services in three core areas: Education & Leadership, Health, and Safety & Violence prevention; additionally, the agency has a drop-in youth center, FUERZA, which has been safe haven for many youths in Cicero and surrounding areas.
From your standpoint, how has Corazón Community Services impacted the lives of those entering its doors?
I believe Corazón CS has impacted the community of Cicero as a whole through our collaboration efforts with other community organizations, elected officials, schools and key stake holders. In the last ten years, we have seen dramatic drop in Teen Pregnancies at the High School level and a reduction in Gang Shootings/Homicides, in Cicero. We believe Corazón CS has had a significant role in seeing a drop in both areas. We also make impact on a "1 on 1" level with the youth we have in our afterschool programs. By providing a safe environment and leadership opportunities, we have been an oasis for many of our youth that feel lost or un-supported.
What goals are set forth for CCS this year?
Our main goal for this year is to continue to provide our services to the community, while looking at opportunities to grow. We have had to roll back on a lot of services since 2015, due to budget cuts made at the state level. Regardless, Corazón CS has continued to support our youth and families and looks to expand in the near future.
For someone interested in getting involved, what opportunities are available to them?
Corazón CS does provide volunteer opportunities through our many community events held yearly. We also provide internship opportunities for college students who are looking to learn and expand their professional careers in the non-profit sector. Although most of our programs target youth 12-18, we do provide services for adults in the community such as: Tattoo Removal and HIV testing.
What would you like the community to know about CCS?
For more than four years Corazón has had to scale back some of its services due to the effects of the state budget. Every contribution made, whether volunteering or monetary, will help restore services through our Violence Prevention programs, the Education and Leadership programs and Health services. These services are life-saving and life-changing for Cicero youth and families. For more info, you can visit us www.corazoncs.org