Compiled by Ashmar Mandou
Navy Pier Summer Fireworks
August 31st
Free Admission
Navy Pier
www.navypier.com
Don't miss the last chance to catch Navy Pier's spectacular fireworks this summer. The night sky lights up at 10:15p.m., but make it a whole day of fun. Navy Pier is home to 50 acres of scenic boardwalk boasting new restaurants, boat tours and attractions like the soaring Centennial Wheel.
26th Fiesta Boricua
August 31st
Free Admission
Division and California
www.prcc-chicago.org
The 26th Annual Fiesta Boricua is a family-friendly festival with an immersion into Puerto Rican culture, food, dance, and artisan.

41st Annual Chicago Jazz Festival
Through September 1st
Free Admission
Millennium Park
www.chicago.gov
The Chicago Jazz Festival showcases the greatest jazz artists from Chicago and around the world during new, extended festival dates. The Chicago Jazz Festival is produced by the Department of Cultural Affairs and Special Events and programmed by the Jazz Festival Institute of Chicago.
Los Dells Festival
August 31st through September 1st
Ticket Prices Vary
4217 W. 50th St., Mauston, WI
www.losdell.com
Los Dells Festival is the first major Latin Music and Arts Festival in the Midwest. The festival creates a multi-cultural experience for fans of music just outside one of the largest family-friendly entertainment destinations in the Midwest: The Wisconsin Dells.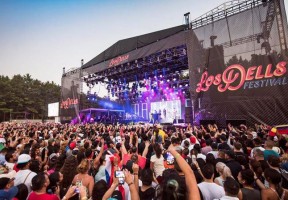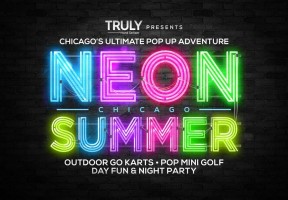 Neon Summer Chicago
Through September 8th
Ticket Prices Vary
1265 W. Lemoyne St.
www.neonsummerchicago.com
For a limited time only, Neon Chicago is an urban adventure featuring Chicago's first outdoor Go-Kart Track and a custom POP Mini Golf Course: an eye-catching course with unique surprises throughout the course, including themed cocktail bars for the young at heart (21+)
American Players Theatre
Through the Fall season
Ticket Prices Vary
5950 Golf Course Rd., Spring, Green, WI
www.americanplayers.org
American Players Theatre is a classical theater located just south of Spring Green, Wisconsin. It includes a 1,089-seat outdoor amphitheater. Catch a Shakespearian production across 110 acres of woods and meadow just off the Wisconsin River.