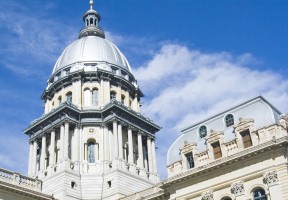 Ushering in a new era of transparency and effectiveness to the state's health care system, Governor JB Pritzker enacted a Medicaid overhaul to increase the timeliness of applications, redeterminations and payments to providers and decrease the number of Medicaid claims denials. Crafted by the bipartisan, bicameral Medicaid Legislative Working Group, SB 1321 enables key state agencies – the Dept. on Aging, Dept. of Healthcare and Family Services, Dept. of Human Services and Dept. of Innovation and Technology – to lead one of the most aggressive cross-agency efforts in Illinois history to expand access to health care for low-income Illinoisans and eliminate the application backlog that had grown to more than 120,000 people under the previous administration.
MCO Transparency & Accountability
Taking effect immediately, the new law centralizes claims from providers to Managed Care Organizations (MCOs) in order to increase transparency and accountability. HFS will set up a new claims clearinghouse, allowing the department to collect and analyze data and better adjudicate claims. HFS will also create a dispute resolution process and be the arbiter in disagreements between providers and MCOs about payment disputes. SB 1321 requires MCOs to make timely payments within 30 days and make expedited payments to health care providers serving large Medicaid populations, including long-term care facilities where more than 80 percent of residents receive Medicaid, exceptional care long-term facilities, safety-net hospitals and government-owned providers.
Eligibility Streamlining: Reducing Barriers to Health Care
The new law mandates a full review of the Medicaid redetermination process to identify changes that will allow more patients to be renewed automatically and ensure patients are maintaining the highest continuum of care possible. HFS will develop and seek federal approval for ex parte determinations and redeterminations utilizing accessible data from eligibility for other public programs, as well as an ACA Medicaid eligibility streamlining policy, altering the reasonable compatibility standard from 5 percent to 10 percent. Income eligibility for Medicaid will now only require one pay stub. Copays will be relaxed so HFS is not required to charge the maximum copay under current federal standards.