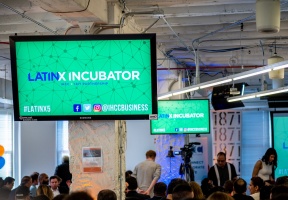 On Tuesday, IHCC and 1871 kicked off the sixth cohort of the IHCC + 1871 Latinx Incubator. The Latinx Incubator is a first-of-its-kind partnership between the Illinois Hispanic Chamber of Commerce (IHCC) and 1871 with the mission of growing the pipeline of Latinx and diverse entrepreneurs participating in and contributing to the Chicago tech and innovation economy. On September 10th, Cohort 6 welcomed ten startups and the diverse founders that represent them. The founders will undergo a rigorous 12-week program that includes curated programming, mentorship, and facilitated introductions to key business, corporate, and venture partners. Cohort 6 Startups include:
BAGLí | Ifeanyi Charles and Sofia Zervas | BAGLí is a community-based on-demand short term storage service. A safe, easy depository where travelers are able to drop-off their luggage over a short period of time to go explore the city stress and luggage free.
Hear Space | Ashley Villarreal | Hear Space is a mobile app that connects people ready to start a conversation about life challenges and hardships. We work closely with universities and veterans. Our platform helps people overcome these problems by giving them a tool to share their stories with each other and access resources straight from their pockets. We stand out because of our friendly-user platform, affordability, and innovative ways to connect users.
PagoPay | Edward Sanchez | A peer to peer payment transfer service for the transfer of USD remittances from the USA to Ecuador and vice versa. The same service is also available to residents within Ecuador with other financial tools available as features.