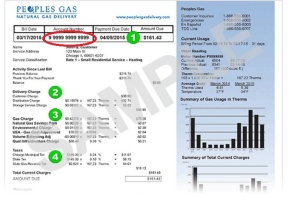 Peoples Gas and North Shore Gas are encouraging qualifying customers to submit their Low-Income Home Energy Assistance Program (LIHEAP) early if they need help paying their natural gas bills this heating season. Enrollment for LIHEAP opened on October 1 for seniors and people with disabilities. Now it's open for households with children up to five years-old and customers whose natural gas service has been disconnected. The program provides grants to customers struggling to pay outstanding utility bills, reconnect service, and maintain natural gas service. Applications for all customers will open on December 1.
Peoples Gas
For Peoples Gas customers, the Community Economic Development Association (CEDA) administers LIHEAP. Peoples Gas customers should call (800) 571-CEDA (2332) or visit cedaorg.net for information about how and where to apply.
North Shore Gas
For North Shore Gas customers, the Community Action Partnership of Lake County administers LIHEAP. North Shore Gas customers should call 847-249-4330 or visit caplakecounty.org for information about how and where to apply.
LIHEAP eligibility
Eligibility and the amount of grants depend on household size and the last 30 days of gross household income prior to filing an application. To Apply for LIHEAP Applicants are required to submit:
• Proof of household income or any financial assistance for the past 30 days for all members of the household over age 18;
• Your current residential heating bill;
• Proof of social security numbers for all household members;
• A medical eligibility card for any member of your household receiving Temporary Assistance for Needy Families (TANF); and
• Your rental agreement, in cases where utilities are included in the rent.