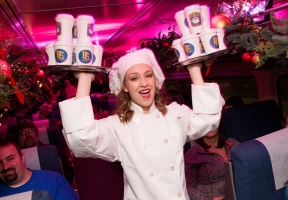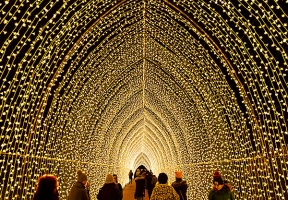 Recopilado por Ashmar Mandou
The Polar Express
Union Statioon, 225 S. Canal St.
De ahora al 29 de diciembre
Precio: $48-$70
www.chicagothepolarexpressride.com
A los sonidos de la banda sonora de una película, los pasajeros revivirán la magia de la historia clásica mientras los llevan en THE POLAR EXPRESS a un viaje mágico de una hora para encontrarse con Santa. Una vez a bordo, sus anfitriones caminan por el carro y revisan tu boleto antes de que chefs bailarines te ofrezcan un chocolate caliente y una deliciosa galleta.
Jardín Botánico de Chicago: Lightscape
Jardín Botánico de Chicago, 1000 Lake Cook Rd., Glencoe, IL
De ahora al 5 de enero
Precio $25-$110
www.chicagobotanic.org
Pasearás dentro de un festivo mundo de maravillas y luces. A lo largo de un sendero de una milla, la noche revive con color, imaginación y sonido, desde un alegre coro de árboles cantantes a una espectacular catarata de luz. A veces te hallarás en el centro – entrando a una catedral de luz dorada, caminando por una avenida de luminosos tilos, moviéndote en medio de coloridas cintas de luz.

Desfile del Día de Gracias de Chicago
Calle State, de Ida B. Wells a Randolph St.
Jueves, 28 de Nov., de 8 a.m. a 11 a.m.
Gratis
www.chicagothanksgivingparade.com
ZooLights
Chicago Lincoln Park Zoo
De ahora al 5 de enero
Gratis
.
La época más maravillosa del año merece el evento más maravilloso del año. Por eso, le invitamos a que nos acompañe a celebrar 25 años de luces ZooLights en Lincoln Park Zoo
Villancicos en Cloud Gate
Millennium Park
Del 29 de noviembre al 20 de diciembre
Gratis
https://www.chicago.gov/city/en/depts/dca/supp_info/caroling_at_cloudgate.html
Todos los viernes, del 29 de noviembre al 20 de diciembre, villancicos acompañados de buena música! Choir (Nov 29), Mark Hubbard and The Voices (Dic 6) El Coro de Niños de Chicago (Dic 13) y los Wicker Park Choral Singers (Dic 20).