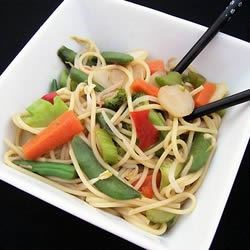 Ingredients
* 8 ounces angel hair pasta
* 3/4 cup chicken broth
* 1/4 cup soy sauce
* 1 tablespoon cornstarch
* 2 tablespoons canola oil
* 1 3/4 cups chopped celery
* 1 3/4 cups sliced fresh mushrooms
* 1 3/4 cups sliced red bell peppers
* 1/2 cup sliced onion
* 2 cups bean sprouts
* 2 cups snow peas
* 1 cup chow mein noodles
* Add all ingredients to list
Directions
* Bring a pot of lightly salted water to a boil. Add angel hair pasta and cook for 3 to 5 minutes or until al dente; drain.
1. In a small bowl, whisk together the chicken broth, soy sauce, and cornstarch.
2. Heat the oil in a wok over medium-high heat. Stir in the celery, mushrooms, peppers, and onion, and cook about 3 minutes. Add the broth mixture, bean sprouts, and snow peas. Continue to cook and stir about 5 minutes, until vegetables are tender but crisp.
3. In a large bowl, toss together the cooked pasta and the vegetable mixture. Top with chow mein noodles to serve.