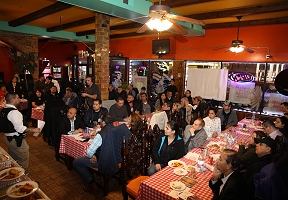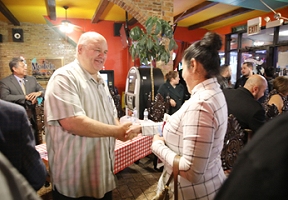 More than 44 businesses and 20 leaders from the Town of Cicero and community organizations launched the new Cicero Chamber of Commerce during a dinner meeting at Langostinos Restaurant on Laramie Avenue in Cicero. The effort was led by Town President Larry Dominick who told the gathering that the business community needed to reorganize to re-establish a professional business networking association to become stronger and more successful.
"It's very important for the businesses in Cicero to come together and network and work with the Town of Cicero. The Town wants our businesses to succeed and coming together through the Cicero Chamber of Commerce is the first step towards making that happen," Dominick told the business leaders. "The Town of Cicero is here to help you and I am proud that we are able to help bring this organization together after a long absence."
Speakers at the first "Launch Meeting" of the Cicero Chamber of Commerce included Ismael Vargas, the director of Business Licensing. Vargas spoke about the services that the Town of Cicero officers to help businesses. Speakers also included representatives to the Cicero Police Department, including Captain of Police Mathew Ramirez and Detective Edgar Alba who discussed the increasing safety in the town and how businesses can make their retail efforts safer.
Also attending were Cicero Clerk Maria Punzo-Arias, and State Rep. Lisa Hernandez who detailed state programs that are available to help businesses. Organizers said the new Cicero Chamber of Commerce will meet monthly beginning in January after the holidays and will provide speakers who can help businesses to strengthen their sales, practices and achieve their goals. The chamber will also offer many other services including hosting a jobs fair to help them find qualified employees from within the community. The chamber will also help publicize and promote businesses by spotlighting them on the chamber's new website at www.CiceroChamberofCommerce.com. The website lists many of the services the new chamber hopes to provide.
Currently, there is no fee to join the chamber although the chamber's interim board will at a later date set an affordable and appropriate membership fee to cover services and benefits. Membership in the new Cicero Chamber of Commerce is open to any retail business that has a business license from the Town of Cicero. For more information on upcoming meetings, topics and services visit the chamber's website at www.CiceroChamberofCommerce.com.