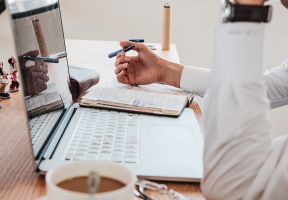 By: Ashmar Mandou
Once we are done with our year-end reflection, it is time to prepare with new goals for the year that is about to start. The New Year will bring with it a fresh start and we have a few New Year's resolutions to help you step into the new chapter with the right attitude.
Start a Meditation Practice.
There are scientific studies that show the many benefits of meditating. To name just a few, meditating helps to improve your mood, it reduces stress, it lessens anxiety, and it even increases your brain's grey matter — which is involved in muscle control, sensory perception, decision making, and self-control. In addition, once you get the hang of it, meditating is easy to do.
Play More.
Play is an important source of relaxation and stimulation for adults. In addition, it can make you more creative and productive. Bring more play into your life by making it a New Year's resolution.
Write a Business Plan.
Make 2020 the year you stop thinking about starting a business and you start taking action –it's OK if it's a small business on the side. The first step to take is to write a business plan. Once you get your ideas down on paper, you'll be that much more motivated to turn those ideas into reality.
Stop Procrastinating.
If you didn't achieve your goals this year, procrastination was the likely culprit. Make 2020 the year you stop procrastinating and start getting things done. This will help you to ensure that you won't be sitting there at the end of next year wondering why you never got around to working on your goals.
Become More Confident.
Confidence can be defined as your belief in your own abilities and in your capacity to get what you want.  In turn, the importance of confidence cannot be overstated. Confident people are happier, more relaxed, more likely to take chances, and more likely to succeed. Fortunately, there are ways to become more confident. These include giving yourself credit for what you do, cultivating your inner advocate, and taking consistent action toward the achievement of your goals.