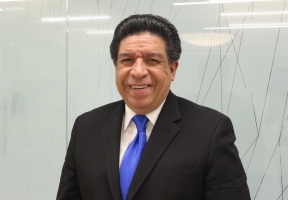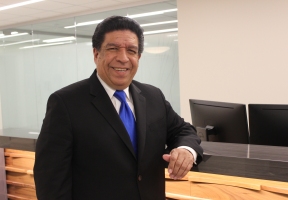 By: Ashmar Mandou
A trailblazer in every sense of the word. Justice Jesse Reyes, who is the first Latino elected to the Illinois Appellate Court, is not unfamiliar with generating space for inclusivity from his days at the University of Illinois at Chicago to his time on the Appellate Court, Reyes has always subscribed to the notion that all communities needed to be justly represented.
"I cannot tell you when I developed that sense of justice, but I knew from my upbringing, from the lessons my hard working parents taught me, from the books I read, I knew it was my civic duty to represent my community, to represent all communities that were unfairly portrayed," said Justice Jesse Reyes.
Reyes's tenacity and intellect propelled him through high school where he graduated from Kelly High School, took community college classes while working in factories to help support his family, to eventually graduating from the University of Illinois at Chicago to then graduate from John Marshall Law School in Chicago. Justice Reyes served as the Presiding Justice of the Fifth Division and as the former chair of the First District's Settlement Conference Committee. He has been a member of the judiciary since December 1997, having previously served as both an associate judge and elected judge of the Circuit Court of Cook County. His previous judicial assignments have included the Chancery Division's Mortgage Foreclosure/Mechanics Lien Section, Domestic Violence Court and the Sixth Municipal District. He also served on a number of Circuit Court committees during his tenure on the trial court.
Before his election to the bench, Justice Reyes was employed with the Law Department of the Chicago Board of Education and represented the Board in litigation matters, and was responsible for the development and implementation of policies and procedures pertaining to school reform. Prior to joining the Board of Education, he was a Senior Supervising Attorney with the Corporation Counsel's Office representing the City of Chicago in complex civil litigation matters in state and federal court.
Now Justice Reyes will take his robust experience to a higher level as he runs for a seat on the Illinois Supreme Court, potentially becoming the State's first Latino to serve on the court.
"Deciding to run for the Illinois Supreme Court represents hundreds of supporters and volunteers who believe that the Illinois Supreme Court belongs to the people. I am a descendant of immigrants and a product of a blue-collar family, I believe I bring a much-needed voice to the Supreme Court bench," said Justice Jesse Reyes. "From working in a factory to help support my family, and now an Appellate Court Judge about to embark on a journey that may take me to the highest court in the Land of Lincoln, that would be a great story for our great state.
"On and off the bench, I have made it my life's mission to prove better access to justice by educating those who are marginalized and those who are economically disadvantaged, of their rights so when they step into court they know they have a right to be treated like everyone else. We need to make our court system more accessible to everyone -and that is exactly what I will continue to do as an Illinois Supreme Court Justice."