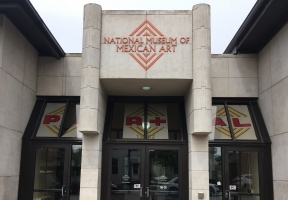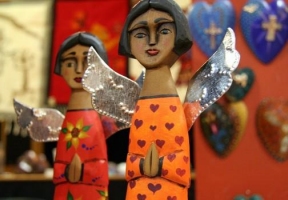 Courtesy of National Museum of Mexican Art
At the National Museum of Mexican Art (NMMA), from paintings to prints, arte popular to sculpture, Mexican art is the core of what we do. While the NMMA is temporarily closed and our galleries are quiet, our staff is finding creative ways to stay busy and entertained. Our community, the families and individuals that typically fill our colorful galleries, are important to us and it is in that spirit that we share some of our personal favorites during this time of Covid-19. Staff interests are as diverse as the Mexican art we collect and present at the Museum and we are pleased to share their ideas with you.
Vanessa Sanchez, the director of NMMA's youth initiative, Yollocalli Arts Reach, has the work of their young people on her mind and suggests listening to Yollocalli's Wattz UP Radio Show to explore awesome audio by talented teens. Yollocalli's La Mesita crew for teens offers up this performance and interview with Adam Stone, a singer-songwriter, rapper, producer, and musician from Monterrey, Mexico. Youth can learn how to live stream their own video with this handy video by Yollocalli.
Dolores Mercado, NMMA's Associate Curator recommends these movies and documentaries featuring the talents of Mexican directors:
• Lorena, Light – Footed Woman by Juan Carlos Rulfo (Netflix)
• Roma by Alfonso Cuarón (Netflix)
• The Shape of Water by Guillermo del Toro (Amazon Prime)
• The Revenant by Alejandro González Iñárritu (Amazon Prime)
• Birdman by Alejandro González Iñárritu (Amazon Prime)
• El violin by Francisco Vargas (Amazon Prime)
• A Day without a Mexican by Sergio Arau (DVD available for purchase on Amazon)
In spite of the fact that the National Museum of Mexican Art has had to postpone its Sor Juana Festival, the Museum's performing arts consultant Jorge Valdivia has these ideas to create your own home festival. Start out with NMMA's Facebook Live stream from last Friday's Vintage Vibes: Gizzelle featuring Monica Rocha and Cota. Then check out the NMMA playlist Jorge created on Spotify with artists from the Sor Juana Festival 2020, including Regina Orozco, San Cha, Rimel, and Marisol La Brava and her band A Flor de Piel: https://open.spotify.com/playlist/4pMdkRGCD6je2HuWneGANk?si=W4WLEABrRkurwgl31hzKGw
Finally, Mario Hernandez, Gallery Education Coordinator encourages you to take a virtual tour of the Museum or dive deeper into our Permanent Collection, https://artsandculture.google.com/partner/national-museum-of-mexican-art. The National Museum of Mexican hopes to open its doors to the public again soon. In the meantime, we'll be posting to social media so check in on us there. Take care of yourselves and we'll take care of the art.