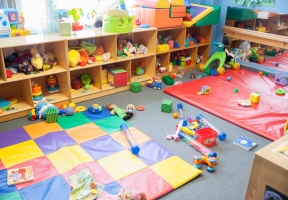 By: Nina Dueñas, Sr. Vice President of Children's Programs, El Valor
You and your children are now adjusting to a new way of living. Like all change, it takes a few days to adjust. Stay positive, keep your children and yourself busy. Be patient with yourself as well as with your children. You are your child's first teacher and together you can continue to learn and develop. In addition to your love, your child needs you to read, talk, and sing with them. Establish a daily routine, young children make sense of time and feel safe when they can predict what will happen next during the day. When routines are disrupted and unpredictable it may cause children to become disoriented. Talk to your children about the current change in routine. For example, "school is closed because they are cleaning". We all need to be healthy. Create a routine at home and be consistent. Simple routines such as waking up, brushing teeth, meal times and naptime are key.
Enjoy story time! Read with your children. Talk to your children about the story you read, highlighting vocabulary. Emphasize new words. Stay active with your children, do simple exercises- go up and down stairs. Short walks around the block are appropriate and safe. Remind your children not to touch things along your path. Wash hands as soon as you come in from outdoors. Enjoy play time with your children, and join in their play. Remember that children learn best through play. Play can be a powerful way to strengthen the relationship between parents and children. Through play, children also learn about the world around them—they explore, expand their imaginations, and their creativity. Play is also very important for healthy development. Engage your children in hands on activities, crafts, counting items, making play dough, and building with Legos, Tupperware or boxes. Practice cutting, practice zipping zippers, or tying shoes. Prepare healthy snacks together. Remember to include five servings of fruits and vegetables a day. Avoid sugary snacks.
It is okay to watch a favorite show. Limited screen time is recommended for children two to five years of age. Per the American Academy of Pediatrics, screen time is not recommended for children birth to two. Young children can help with some simple household chores. Like cleaning tables, cleaning their own toys, helping to fold clothes, putting shoes away, helping to organize dishes, watering plants and, with adult supervision, helping to throw out the garbage and prepare food. It is normal for children to tantrum. Help them slow down, and acknowledge their feelings by naming them, for example "I can see you are upset, how can I help you?" Use problem-solving vocabulary, "Is it a good idea to jump on the sofa? What is the sofa used for?" Give children a minute to think about their response.
I hope these tips will make your time at home with your children more productive and enjoyable, so they can continue on the path of healthy growth and development.
Follow us on FB (@elvalor.org), Instagram (el_valor_chicago), and Twitter (@ElValorChicago).