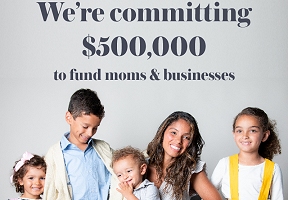 The Mom Project, anunció un programa especial que financiará $ 500,000 en subvenciones para impulsar el empleo y apoyar a las empresas en medio de la turbulencia económica causada por COVID-19. Además, la compañía ha agregado varias iniciativas clave y mejoras de productos con el objetivo de reforzar la participación de la fuerza laboral femenina y armar a las compañías con ideas poderosas. Además del Fondo Stronger Together, The Mom Project ha entregado varias iniciativas clave para apoyar a los padres que trabajan y a los socios de contratación desde marzo;
● Oportunidades de trabajo remotas: a través de su mercado laboral, The Mom Project conecta su comunidad de talentos con roles a tiempo completo, a tiempo parcial y basados ​​en proyectos en empleadores amigables para la familia, ahora con un mayor énfasis en roles 100% remotos, que han crecido 318% desde febrero.
● Experiencia de empleados mejorada: WerkLabs, la división de información de The Mom Project, ayuda a los líderes empresariales a responder sus preguntas más importantes para apoyar y comprometer mejor a los empleados a medida que evoluciona el lugar de trabajo. Las empresas que buscan comprender tanto los obstáculos actuales para la productividad de los empleados como las estrategias críticas requeridas para la transición de los empleados de un trabajo completamente remoto a un entorno de oficina o híbrido se beneficiarán de los análisis predictivos de personas de WerkLabs. Su modelo patentado se mejoró recientemente para incluir las características socioemocionales que pueden afectar a los empleados a medida que la FMH (trabajan desde casa).
● Resume Rev: El producto Resume Rev y la Guía de currículum de 5 días se pusieron a disposición de todos, lo que permitió a las mamás producir rápidamente un currículum nítido y limpio que se puede utilizar para solicitar trabajos en el mercado laboral de Mom Project, o descargarse para solicitar trabajos en cualquier lugar donde se necesite un currículum.
● Entrenamiento profesional pro-bono: El Programa Unity se inició para unir a las personas afectadas por las dificultades de COVID-19, combinándolas con servicios de coaching profesional pro bono y revisión de currículums. Hasta la fecha, The Unity Program Matching ha apoyado más de 500 solicitudes de asistencia con más de 1,000 horas de entrenamiento profesional ofrecido en las próximas semanas.
Para obtener más información, visite https://work.themomproject.com/stronger-together-fund.