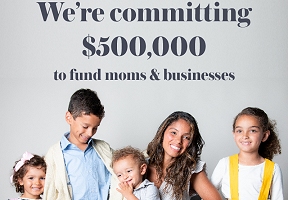 The Mom Project, the leading career destination for moms, announced a special program that will fund $500,000 in grants to boost employment and support businesses amidst the economic turbulence caused by COVID-19. In addition, the company has added several key initiatives and product enhancements aimed at bolstering female workforce participation and arming companies with powerful insights. In addition to the Stronger Together Fund, The Mom Project has delivered several key initiatives to support working parents and hiring partners since March; 
●     Remote Job Opportunities: Through its job marketplace, The Mom Project connects its talent community with full time, part-time, and project-based roles at family friendly employers, now with an increased emphasis on 100 percent remote roles, which have grown by 318% since February.
●     Enhanced Employee Experience: WerkLabs, the insights division of The Mom Project, helps business leaders answer their biggest questions to better support and engage employees as the workplace evolves. Companies seeking to understand both current obstacles to employee productivity and the critical strategies required to transition employees from fully remote work back to an office environment or hybrid will benefit from WerkLabs' predictive people analytics. Their proprietary model was recently enhanced to include the socio-emotional characteristics that may affect employees as they WFH (work from home).
●     Resume Rev: The Resume Rev product and 5-Day Resume Guide was made available to all, allowing moms to quickly produce a crisp, clean resume that can be used to apply for jobs on the Mom Project job marketplace, or downloaded to apply for jobs anywhere a resume is needed.
●     Pro-Bono Career Coaching: The Unity Program was initiated to match individuals impacted by COVID-19 hardships, pairing them with pro bono professional coaching and resume review services. To date, The Unity Program Matching has supported over 500 requests for assistance with more than 1,000 hours of professional coaching offered in the coming weeks.
For more information, visit https://work.themomproject.com/stronger-together-fund.