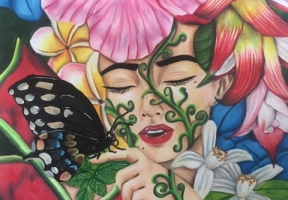 Due to the Covid19 worldwide pandemic arts organization have either temporarily suspended their programs or offered limited services virtually to their base. LATINO ART BEAT (LAB) despite all the inherent difficulties proceeded this year in offering its art and film competition to high school juniors and seniors nationally. Even though all city partners could not participate in offering this scholarship award-winning visual arts initiative to their students this year, two major cities moved forward with LAB for the 2020 competition. Teachers, high schools and the Departments of Education in Miami and Washington, D.C., assisted given the fact that their students were not able to attend classes, had no access to materials like paint, paper and in the case of the film students; did not have access to the schools' film labs for cameras, editing programs, etc.
In Miami, Latino Art Beat has been an "in class project" now for many years and the teachers and their students were already prepared to participate in 2020 LAB. Once the pandemic took hold in the USA – teachers and their students inquired as to how to participate in this year's competition – considering that all the schools were closed. Latino Art Beat designed a protocol whereby the students, with the assistance of their art teachers (from home) could participate. It was a struggle at first but in the end some marvelous artwork was submitted. All competition artwork images were sent and judged by the local Department of Education in participating cities. Subsequently, the winning students in turn sent their original artwork directly to LAB in Chicago. This year's 2020 'BEST OF SHOW' art competition winner is Daniela Rosales from New World School of the Arts for her painting titled "Our Rich Mountain" who receives a deferred scholarship of $10,000 for her junior and senior college years to attend the Maryland Institute College of Art, ("MICA") Baltimore, through its scholarship partnership with Latino Art Beat.
For LAB's Film+Animation competition, students sent their film entries directly to Latino Art Beat electronically by uploading to YouTube or other video sites with a pass code. The procedure was followed correctly with an overwhelming number of film entries received. LAB solicited former film student participants, and filmmakers who have participated with Latino Art Beat Productions to sit on the 2020 film jurying panel. These wonderful judges volunteered their time at home to give-back by reviewing, judging and filling out the paperwork in order to select the most talented film winners. This year's jurying panel consisted of: Yossel Simpson Little (UK) – Feature film set designer and creative artist and one of LAB's very first international film exchange students (multiple film credits; "Isle of Dogs", "Frankenweenie", "Fantastic Mr. Fox", etc.); Manny Reyes III – Short story writer ("Visiting the Museum, "The Dance"); Jose Rubio –former LAB film exchange participant, Chicago – Isle of Wight, UK ("Mind the Gap"); Nikola Stojkovic – Short film producer, director and editor ("Human Instincts", "Poser", "Visiting the Museum", "The Dance", etc.) and Don Rossi Nuccio, President of Latino Art Beat. The judges overwhelming selected young aspiring filmmaker, Aquiles Barretto of Doral Academy of the Arts, as 'MOST PROMISING YOUNG FILMMAKER' who will receive a $1,000 scholarship for his film "Esperanto". Several other young filmmakers were selected as Honorable Mentions. LAB will be uploading several short instructional videos on art, film+animation and game designing on YouTube shortly. So watch for these informative and entertaining videos! For further information on Latino Art Beat: latinoartbeat@hotmail.com.