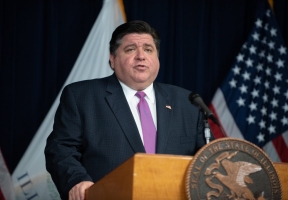 Deputy Governor Sol Flores and Greater Chicago Food Depository CEO Kate Maehr, convened the first meeting for the Illinois Commission to End Hunger. Last year, Governor Pritzker restructured the Illinois Commission to End Hunger and named Flores and Maehr Co-Chairs. The newly rebooted commission will convene listening sessions with stakeholders across the state and recommend measurable solutions toward drastically reducing hunger in Illinois amid the ongoing COVID-19 pandemic. Among the appointments to the commission prior to the first meeting are:
Gina Cleggs will serve on the Commission to End Hunger. Cleggs serves as the Vice President, Community Development & Outreach Services, for Catholic Charities. In this role, she assists individuals, families, and communities in the provision of services which support and enhance growth and development in the areas of community nutrition programs, youth development, employment and training, health promotion, community educational intervention and outreach initiatives and social enterprises.
Robert Eastern will serve on the Commission to End Hunger. Eastern is the current Mayor and Liquor Commissioner of East St. Louis. He previously served as a Human Resource Specialist at East St. Louis School District 189 and Surgical Technologist at Barnes-Jewish Hospital in St. Louis, Missouri. Eastern attended United States Navy Corpsman Surgical Tech School in Carbondale, Illinois.
Luvia Quiñones will serve on the Commission to End Hunger. Quiñones presently serves as Health Policy Director at the Illinois Coalition for Immigrant and Refugee Rights (ICIRR), Secretary of the Illinois Association of Free and Charitable Clinics, and Alumni Council Member of the Irving B. Harris Graduate School of Public Policy Studies in Chicago. He is the former Assistant Director, New Americans Initiative and Immigrant Family Resource Program Director of the ICIRR. He also served as Community Relations Liaison for the City Colleges of Chicago and Research Assistant with the University of Chicago-Center for Latin American Studies. Quiñones is a past Co-Chair of West Suburban Action Project, Chair of Parish Transformation and Liturgy Committee, St. Sylvester Parish, and a mentor with the Office of Multicultural Affairs (OMSA) Mentoring Program at the University of Chicago. He earned his Bachelor of Arts in International Studies from DePaul University and master's in public policy from the University of Chicago-Irving B. Harris Graduate School of Public Policy Studies.