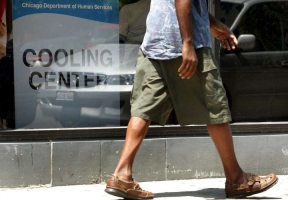 City Officials announced added resources for residents to find relief from extreme heat this week. Through Friday, July 10, residents will have access to cooling centers, cooling buses, Chicago Park District splash pads and more to get relief from high temperatures and humidity that can pose as a health and safety threat. Residents can find a list of all cooling resources available this week by calling 3-1-1. As part of this week's precautionary measures, DFSS has activated their six cooling centers, open through Friday, 9 a.m.–5 p.m.
Englewood Center – 1140 W. 79th Street
Garfield Center – 10 S. Kedzie Ave.
King Center – 4314 S. Cottage Grove
North Area Center – 845 W. Wilson Ave.
South Chicago Center – 8650 S. Commercial Ave.
Trina Davila Center – 4312 W. North Ave.
DFSS is also activating its six Regional Senior Centers as cooling areas for seniors to find relief from heat. The Renaissance Court Senior Regional Center will be open from 9 a.m. to 5 p.m. while the remaining senior regional centers are open 8:30 a.m. to 4:30 p.m. through Friday.
Central West Center – 2102 W. Ogden Avenue
Northeast (Levy) Senior Center – 2019 W. Lawrence Avenue
Northwest (Copernicus) Senior Center – 3160 N. Milwaukee Avenue
Renaissance Court – 78 E. Washington Street
Southeast (Atlas) Senior Center – 1767 E. 79th Street
Southwest Center – 6117 S. Kedzie Avenue
Additional emergency preparedness information and tips are available on OEMC's website: chicago.gov/oemc. For timely updates and other information, follow OEMC on Twitter via the handle @ChicagoOEMC and sign up for free emergency alerts at NotifyChicago.org.