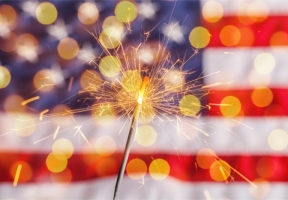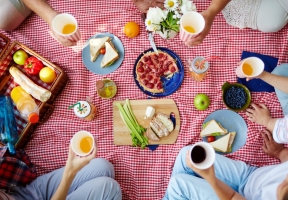 Por: Ashmar Mandou
Las vacaciones de verano pueden parecer un poco diferentes debido a COVID-19 y el distanciamiento social, pero eso no debería impedir que tengas un momento festivo. Incluso si es solo usted o un grupo pequeño, tenemos una lista de actividades que seguramente lo mantendrán entretenido este cuatro de julio.
Crear un parque acuático
Entre rociadores y una divertida extensión de manguera, puede crear un parque acuático en su propio patio trasero. Los niños se entretendrán durante horas (y se refrescarán) jugando divertidos juegos acuáticos.
Empacar un picnic
Tome todas esas adorables recetas rojas, blancas y azules que hizo y celebre con un picnic en el parque.
Ir a dar un paseo en bicicleta
Manténgase activo en su día libre y dé un paseo en bicicleta antes de que comience toda la comida y la fiesta.
Dar un paseo por el parque
¿Buscas discreto el 4 de julio? Use su día libre para explorar un nuevo parque del vecindario en familia.
Lounge en la piscina
A veces con planes de vacaciones, menos es más. Prepare deliciosas bebidas de verano, toque algunas canciones patrióticas y relájese, relájese y tome el sol.
Los nuevos y reinventados eventos del 4 de julio en Chicago incluyen:
• Virtual Chosen Few Picnic & House Music Festival (4 de julio, 12–9 pm, chosenfewdjs.com), con presentaciones en vivo y sets de DJ de Chosen Few DJs: Wayne Williams, Jesse Saunders, Tony Hatchett, Alan King, Andre Hatchett , Terry Hunter y Mike Dunn, además de los artistas invitados especiales Byron Stingily y Carla Prather, y el comediante, actor y DJ Deon Cole. Presentado con el apoyo de DCASE. Para más detalles, visite chosenfewdjs.com y únase a la conversación en las redes sociales usando #ChosenFewDJs y # Chicago4th.
• Festival Remixed: Saludo del día de la Independencia (4 de julio, 6: 30–7: 30 pm, gpmf.org), una expresión virtual de la popular tradición festiva anual del Festival de Música de Grant Park, con la orquesta de Grant Park y el director Christopher Bell con la flautista Mary Stolper tocando el American Flate Salute, el barítono John Orduña interpretando God Bless America, junto con Fanfare for the Common Man, Armed Forces Salute, America the Beautiful, 1812 Overture, Stars and Stripes Forever, y más. Presentado con el apoyo del Distrito de Parques de Chicago y DCASE. Para más detalles, visite gpmf.org y únase a la conversación en las redes sociales usando #ClassicChicago y # Chicago4th.