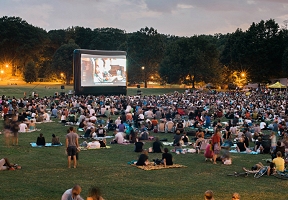 The Chicago Park District launched the 8th season of Night Out in the Parks on a virtual and social media platform earlier this week. New cultural experiences, recorded across the city, will be posted every week throughout the summer at www.chicagoparkdistrict.com/night-out-at-home and youtube.com/chicagoparkdistrict. Night Out in the Parks is supported by ComEd. In response to COVID-19 public health guidelines, "Night Out in the Parks" features a sampling of the family- friendly, quality entertainment that Chicagoans would typically enjoy in our neighborhood parks. A complete list of the 120 artists selected to perform as part of "Night Out in the Parks" this season prior to the release of COVID-19 health and safety guidelines is available at www.chicagoparkdistrict.com/night-out-at-home.
Movies in the Parks
through September 11
Movies in the Parks returns for a 20th season full of blockbuster outdoor entertainment on warm summer evenings. All movies begin at dusk, weather permitting. Follow Chicago Park District: Movies in the Parks at www.facebook.com/ChicagoParks.Movies or call 312.742.1134 for daily listings and weather-related cancelations.
Chicago Shakespeare in the Parks: Virtual Tour
August 10-August 28 at 5:30 pm
Starting August 10th, every day at 5:30 pm the Theater will stream a performance from a local artist, continuing the longstanding tradition of a "Green Show" before what was typically a like Shakespeare performance in the park. This year, community members are invited to bring moments from Shakespeare's A Midsummer Night's Dream to life in their own parks, greenspaces, balconies, and backyards by using the theater's online toolkit and recording their open-air renditions of lines and scenes from the play then sharing on social media with #MyMidsummerCHI. For more information, visit www.chicagoshakes.com.
Chicago Onscreen: Local Film Showcase
Virtual festival: August 29 – September 19
In-person screenings: August 29, September 5 & 12
Drive-in screenings: September 1 & 3
The Chicago Onscreen Local Film Showcase returns with a fresh batch of locally-made and Chicago-focused films. This year's film selection will be screened virtually, in-person and in drive-ins. The official selections include shorts and feature-length films, documentaries, narratives and animated films.