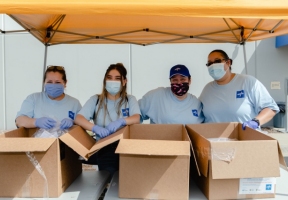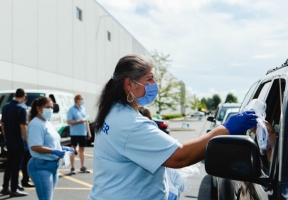 Waukegan Distribution Event Continues Medline Wash-and-Wear Community Mask Project Supporting Communities Disproportionately Impacted by COVID-19. With increased COVID-19 cases reported in Lake County since June, access to personal protective equipment (PPE) is critical to slow the virus' spread. Infection rates among African Americans and Latinos are alarming, with Latinos making up 44 percent of all cases in Lake County while making up only 22 percent of the county's population.
As the largest private employer in Lake County and one of the world's largest manufacturers and distributors of PPE, Medline is providing 50,000 reusable facemasks and hand sanitizer to its Waukegan and Lake County neighbors. The drive-through event took place at the company's distribution center located at 3926 Burwood Drive earlier this month. Joining Medline to help distribute the PPE to community members are the City of Waukegan, Waukegan Township, Lake County Board Member Angelo Kyle, the offices of State Representatives Daniel Didech, and Rita Mayfield, and State Senator Terry Link.
As part of its efforts, Medline works to address the disparities caused by the social determinants of health through volunteerism, product donations, and financial support. To learn more about how Medline is shaping a healthier future by aligning action with values, please visit for more information: https://www.medline.com/pages/about-us/social-responsibility/.