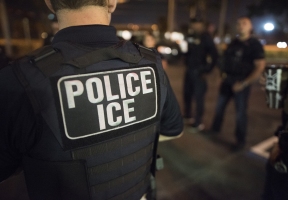 Cortesía de Illinois Coalition for Immigrant and Refugee Rights
Editado por Lawndale Bilingual News
Miembros de Illinois Coalition for Immigrant and Refugee Rights (ICIRR) Chicago Alliance Against Racist and Political Repression (CAARPR) y Organized Communities Against Deportations (OCAD) están celebrando el aviso de la Oficina de Campo de Chicago del Servicio de Inmigración y Control de Aduanas de los Estados Unidos (ICE) de que se está posponiendo la "Academia del Ciudadano" que se había planeado comenzara el 15 de septiembre. ICE anunció sus planes de tener la "academia del ciudadano" en julio. La invitación incluyó pocos detalles, pero declaró específicamente que la academia incluiría entrenamiento en "familiarización con armas de fuego y arrestos selectivos".
Aunque ICE citó la preocupación del COVID-19 como excusa para posponer la academia, asesores creen que la verdadera razón fue la abrumadora voz de los inmigrantes y comunidades aliadas oponiéndose a la academia. Trabajando con Comunidades Organizadas Contra las Deportaciones (OCAD) y Alianza de Chicago Contra el Racismo y la Represión Política (CAARPR), ICIRR y sus miembros han inundado ya el liderazgo de ICE con cerca de 1,000 emails, pidiendo que cierren la academia.
Sabemos que esta lucha no ha terminado. Necesitamos movilizarnos contra el despliegue de la administración de agentes del Departamento de Seguridad Nacional (DHS) y otras agencias federales que atacan y detienen a manifestantes que piden justicia racial y un final a la violencia policíaca. Necesitamos que DHS deje de desafiar los fallos de la Corte Suprema de los EE. UU. y comience a aceptar nuevos solicitantes de DACA para que cientos de miles de inmigrantes sean protegidos de la deportación. El 15 de septiembre, nos reuniremos para nuestro Rally de la Academia Popular y Teach In para celebrar una victoria en el cierre de otra táctica opresiva de ICE, educando y movilizando a nuestra comunidad para que entre en acción para desfinanciar a ICE, CBP y la policía de People's Academy. El trabajo no ha terminado aún, así que empoderaremos y llevaremos votantes a las urnas este otoño para hacer oír nuestra voz el 3 de noviembre.