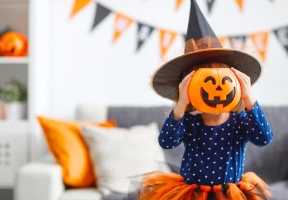 While it might be known as a "spooky" time of year, October also is Children's Health Month, serving as a great opportunity for parents to help children implement healthy nutrition, lifestyle and physical activity habits. Nicole Avena, Ph.D. Nutrition Expert and author of What to Feed Your Baby and Toddler, offers her advice to give kids something actually "good to eat" instead of sugary sweets this season. Some of Dr. Avena's Healthy Halloween advice includes:
• Avoid Food Traps. Halloween is just the start to the holidays, and it's easy to overeat at this time of year. Avoid holiday food traps; plan and have healthy foods and snacks easily available – if attending a Halloween party, bring a fruit or veggie tray with you. It is okay to celebrate – just celebrate for the day, not the entire month!
• Get the Kids Involved. One way to make lasting changes to children's eating behaviors is including them in the decisions surrounding food and educating them along the way. Have kids help with meal planning, shopping, and preparation so that they can feel empowered to try new foods and feel proud of the food they have helped to make.
• Hydrate. Children do not always recognize they're thirsty and may forget to drink water. Parents should look out for symptoms like headaches, lack of concentration, dry lips or mouth, constipation, or lethargy. For children under 8 years of age, the recommended amount of water is at least 4-6 glasses of water which increases to a minimum of 6-8 glasses for children older than 8 years. If they don't like water, add slices of fruit and let them choose their own special cup to make it more exciting.
• Make Sure Kids Get Enough Sleep. Without enough sleep, children can feel tired and cranky, even foggy. Many children get about 9.5 hours of rest a night, but experts agree that most need ten or eleven hours each night. To help give kids the sleep support they need, consider using vitafusion™ Kids Melatonin Gummy Vitamins, which are non-habit forming, natural ways to help them fall asleep.