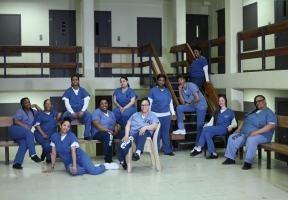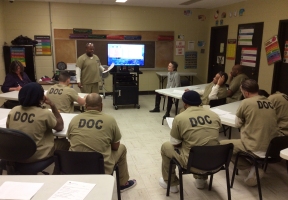 The International Children's Media Center (ICMC), a nonprofit cultural and educational organization dedicated to transforming the way people of all ages use, view and engage digital devices and media, has been invited back into Cook County Jail for extracurricular activities for the first time since the start of the pandemic. Once a week, detainees enrolled in the Sheriff's Anti-Violence Effort (S.A.V.E) will view and discuss award-winning multi-cultural short films from around the globe. In keeping with public health guidelines to help avoid the spread of COVID-19, the Cook County Dept. of Corrections (DOC) has protective measures in place such as socially distanced meetings and a 10-participant maximum per session. Additionally, face-masks will be required and ICMC instructors will have their temperatures taken before entering the facility.
Created by ICMC Executive Director Nicole Dreiske, "WorldScene" aims to help cultivate personal agency and self-determination among detainees while empowering individuals to engage critically with the media they consume. The 18-week film immersion program prompts thought-provoking peer-to-peer discussions of 40-50 short films, addressing topics such as non-violent conflict resolution, developing empathy and forming positive connections with friends, family, and members of the opposite gender.  This is the fourth collaboration between the ICMC and the Cook County Department of Corrections. The initial program launched in 2017-18, working with 48 young men in the Sheriff's Anti-Violence Effort; 2018-19 saw a festival curated exclusively by high and mid-security female inmates, and a triumphant "WorldScene" Festival was curated by detainees in the Veterans Tier in 2019-2020.
Credits: The WorldScene Film Festival is supported by the Academy of Motion Picture Arts and Sciences, the Albert Pick, Jr. Fund, the Seabury Foundation, The Richard H. Driehaus Fund at the MacArthur Foundation, Howard Conant and the Conant Family Foundation.