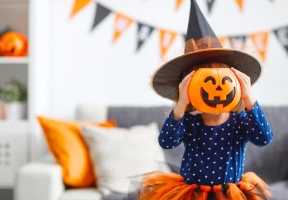 Aunque puede ser conocida como una época 'tenebrosa' del año octubre es también el Mes de Salud Infantil, por lo que es una gran oportunidad para que los padres ayuden a los niños a implementar una nutrición un estilo de vida y hábitos de actividad física saludable. Nicole Avena, Ph.D. Experta en Nutrición y autora de 'What to Feed Your Baby and Toddler' [Cómo alimentar a su bebé o infante], aconseja dar a los niños esta temporada algo que sea "bueno para comer" en vez de dulces azucarados. Algunos de los consejos para un Halloween Saludable de la Dra. Avena incluye:
• Evitar las Trampas Alimenticias. El Halloween es solo el comienzo de la temporada de fiestas y es fácil comer de más en esta época del año. Evita la trampas alimenticias de las fiestas; planee tener comidas y bocadillos saludables que se consiguen fácilmente – si asiste a una fiesta de Halloween, lleve una bandeja de frutas o vegetales. Está bien celebrar – pero celebre el día, no el mes entero!
• Haga que los Niños Participen. Una forma de hacer cambios definitivos en el comportamiento alimenticio de los niños es incluírlos en las decisiones sobre la comida y educarlos con ello. Haga que los niños ayuden con el planeamiento de las comidas y siéntase orgullosa de las comidas que le han ayudado a hacer.
• Hidrátelos. Los niños no siempre reconocen que tienen sed y pueden olvidar de beber agua. Lo padres deben estar pendientes de síntomas como dolores de cabeza, falta de concentración, boca o labios resecos, estreñimiento o letargo. Para los niños menores de 8 años la cantidad de agua recomendada es por lo menos de 4 a 6 vasos de agua que aumenta a un mínimo de 6 a 8 vacos para niños mayores de 8 años. Si no les gusta el agua, agregue rebanadas de fruta y déjelos escoger su bebida predilecta para hacerlo más interesante.
• Asegúrese de que sus Niños Duermen lo Suficiente. Sin el sueño suficiente, los niños pueden sentirse cansados y enojados, inclusive confusos. Muchos niños duermen aproximadamente 9.5 horas en la noche, pero los expertos creen que la mayoría necesita de diez a once horas cada noche. Para ayudar a que sus niños duerman lo suficiente, considere utilizar vitafusion, Kids Melatonin Gummy Vitamins, que no causa hábito y es una forma natural de ayudarlos a dormir.