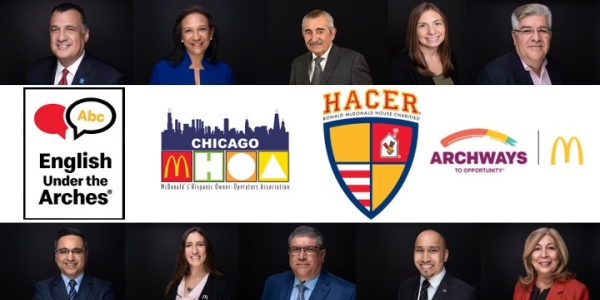 Uno de los pilares de la Asociación de Operadores-Propietarios Hispanos de McDonald (MHOA) es la educación y por eso MHOA tiene un fuerte compromiso en apoyar el Programa de Becas HACER® Local. Desde el 2013, más de $300,000 dólares han sido otorgados a estudiantes hispanos que enfrentan necesidades financieras pero que han demostrado sus habilidades académicas y de liderazgo, así como su sincero deseo de servir a sus comunidades.
Juan Méndez, quien fue uno de los fundadores de MHOA tristemente murió este año. Méndez fue un incansable promotor de la educación. En honor de su compromiso, su familia generosamente donó todo lo procedente del Fondo Memorial Juan M. Méndez a las Becas Hacer de la localidad. MHOA está infinitamente agradecida a la familia Méndez por su generosidad y su deseo de continuar el legado de Méndez. Para los jóvenes estudiantes que asisten a la escuela elemental, algunas necesidades básicas son obstáculos y los miembros de MHOA han respondido, donando el calzado apropiado y los artículos escolares. Adicionalmente, han apoyado una iniciativa que entrega mochilas a miles de los estudiantes con los útiles escolares necesarios para triunfar.
Este compromiso a la educación se extiende también a ayudar a empleados de McDonald's a lograr sus sueños. El programa "Archways to Opportunity" y el curso "English Under the Arches" fueron creados para ayudar a los empleados a mejorar sus destrezas en inglés, obtener un Diploma de Secundaria o trabajar para obtener un diploma universitario, mientras progresan en su camino al triunfo. Los operadores-propietarios de MHOA han celebrado ceremonias de graduación para reconocer a sus empleados que han completado estos programas.
Otra forma en que MHOA contribuye a la comunidad es a través de donaciones directas para organizaciones dignas de servicio. Anualmente se invierten miles en organizaciones como Back of the Yards, Community Council, Casa Central, Erie House, Mujeres Latinas en Acción, Puerto Rican Arts Alliance, Mariachi Heritage Foundation y el Museo Nacional de Arte Mexicano.